Virtual learning meal ideas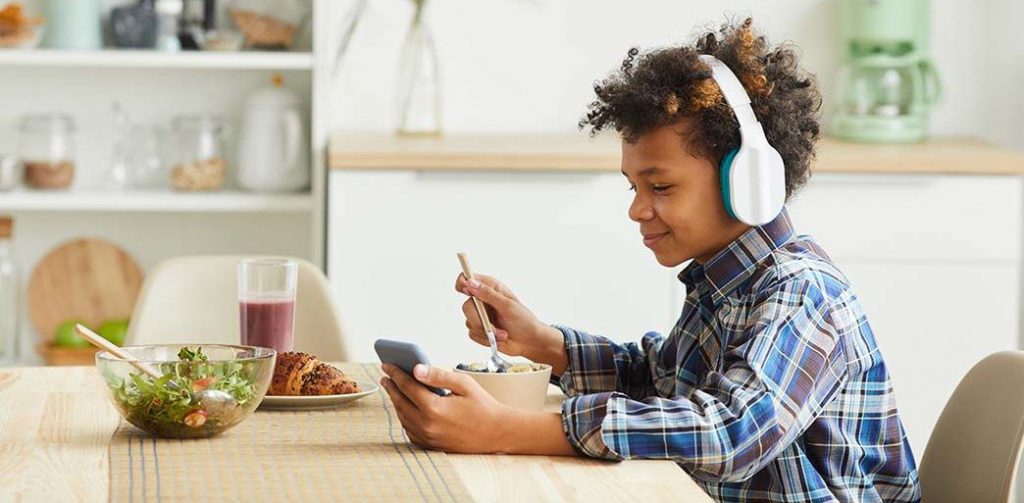 Last week we shared our back to school meal ideas, but we also realize not all students will be going back to the traditional classroom. Many students will be virtually learning this fall, and we have outlined our Virtual Learning Meal Ideas for students and parents who will be staying home this fall.
Proper eating is just as important at home as it is in the classroom to ensure students stay engaged, interactive and focused. Being at home brings enough distractions, but planning healthy meals and snacks throughout the school day can help keep your kids working.
Breakfast ideas
We might be repeating ourselves but consuming a healthy and balances breakfast is very important to keep kids focused, but can also help keep their energies up and help them stay fuller throughout the day. Homemade oatmeal, whole wheat waffles or banana nut whole wheat pancakes are great options to start the day with a healthy balanced meal that includes protein, whole grains and fruits and vegetables. If you as a parent are working from home, join them for breakfast to start the day off with a healthy meal and some quality family time.
Lunch ideas
Taking the time to make and eat a healthy lunch at home can be hard- it's so easy to grab something super quick to pop into the microwave, but eating a balanced meal that isn't high in salt or saturated fats can help your kids work throughout the afternoon. Prepping a tasty fresh Ontario grain bowl, or a quick and easy pasta salad is a great way to have something quick and light for lunch. A hot lunch could be whole wheat flatbread or tofu neatballs on a whole wheat bun.
Snack ideas
Muffins are always a great of to in the afternoon, especially when they contain whole grains. Hummus with homemade wheat thins or pita chips is also a great snack that will hold you over until dinner. And let's not forget the ultimate kid-friendly snack – ants on a log that can be made in minutes for a tasty afternoon treat.
Tips to help at home
Below are tips that can help keep your home healthy for when the kids continue to study from home.
Stock up! Stock up on whole-grain items for your kids to grab including bread, crackers, pita and wraps. Prep make-ahead snacks and meals to have to grab easily during the day. If you have it in stock, then your kids are more likely to eat it rather than a treat.
Use the freezer for storage. Stock your freezer with items that can be defrosted for quick lunches, like grain-based salads, muffins, whole grain bread, and even soy butter and jam sandwiches!
Organize a snack drawer: For easy snacks, pre-fill containers with trail mix made with soy nuts, raisins and whole-grain cereals, or have energy bites handy for a grab and go. Tell kids they can help themselves to their snack drawer filled with healthy snacks they can munch on throughout the day.
Have a "go-to" lunch: When supplies are low, don't stress. Have a staple lunch in mind – one that's made from on-hand ingredients. Try a go-to lunch like whole-grain crackers, cheese cubes and soy butter with fresh celery sticks.
Having kids home for months to come can be very stressful especially if parents are also at home trying to work. Take some time to prep meal and snack ideas and give your kids the freedom to make their own lunches or grab their own snacks. It will help them eating healthily, create a new routine and will keep them occupied while parents work from home.