Banana nut whole wheat pancakes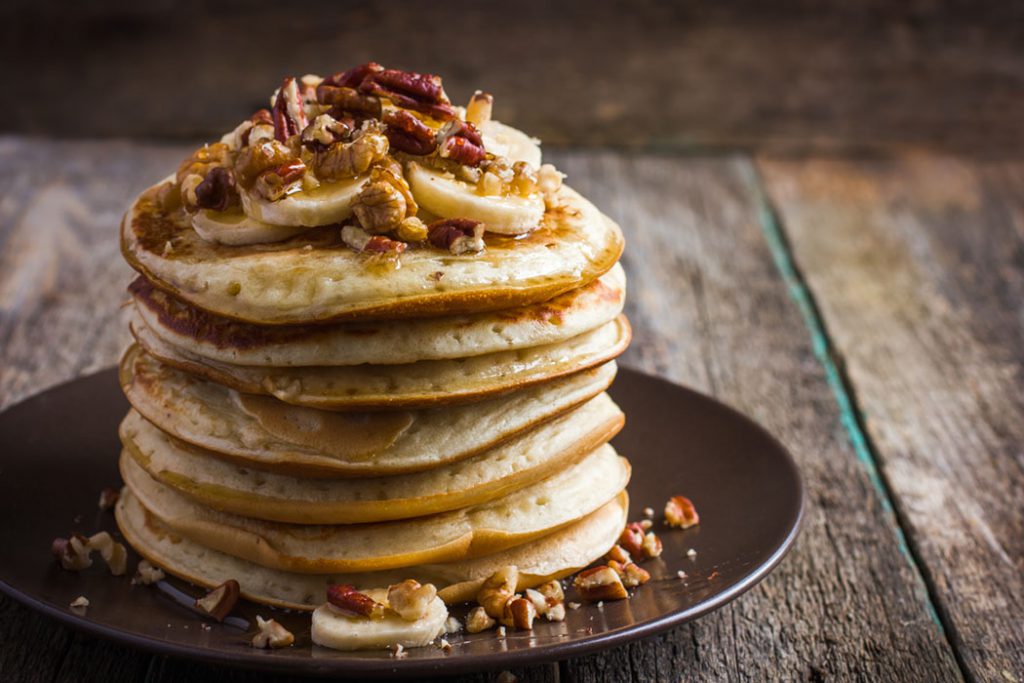 Growing up, weekend mornings were always for fresh-baked pancakes with sausage and topped with fresh fruit or local maple syrup. Our Banana Nut Whole Wheat Pancakes are full of whole-grain goodness with lots of protein thanks to the addition of wheat bran. Try making this recipe with your family for the perfect breakfast option this weekend!
Ingredients:
1 cup (250 ml) whole wheat flour
⅔ cup (160 mL) wheat bran
½ tsp baking powder
2 tbsp (30 ml) granulated sugar
¼ tsp salt
1 cup cottage cheese
4 eggs
⅓ cup milk
½ tsp vanilla
1 tsp soy oil
Toppings:
Sliced banana
A handful of pecans or walnuts
1 tsp of honey
Directions
Add flour, wheat, baking powder, sugar and salt in a mixing bowl. Mix well
In a separate bowl, stir together cottage cheese, eggs, milk, vanilla and soy oil.
Stir wet ingredients into dry ingredients until well mixed. Add small amounts of milk if too thick.
Heat a frying pan over medium heat and add a spoonful of pancake mixture to the heated frying pan.
Cook until golden brown on both sides
Top with sliced banana's, pecans or walnuts and finish with a drizzle of honey!
Alternatively, if bananas, nuts and honey isn't your thing, try topping your whole wheat pancakes with soy butter: a great protein and nut-free spread that tastes great on sandwiches, sliced apples and on pancakes.