Combine to Kitchen: Fresh Ontario grain bowls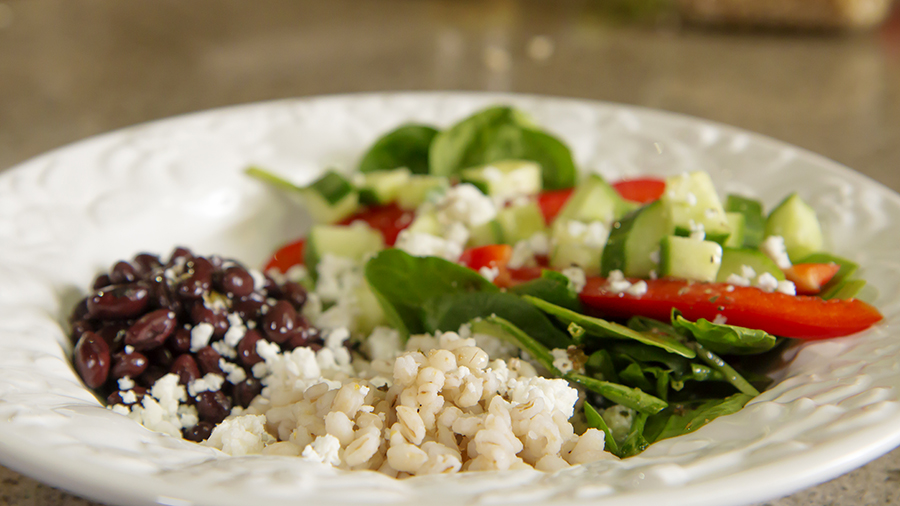 A Fresh Ontario Grain Bowl is a delicious meal in a bowl that can be enjoyed for lunch or dinner. Set-out a variety of ingredients and each family member can assemble their own bowl!
Ingredients
Barley, cooked
Black beans (canned) rinsed and drained
Spinach
Red pepper cut in strips
Orange/yellow pepper cut in strips
Cucumber, chopped
Crumbled feta cheese
Dressing
2 Tbsp oil
1 Tbsp white balsamic vinegar
1 Tbsp unsweetened apple juice
½ tsp minced garlic
½ tsp dried oregano leaves
¼ tsp Dijon mustard
Place all dressing ingredients into a jar with a lid, and shake to combine. That's it!
Other ideas!
Grains
Barley
Wheat berries
Quinoa
Brown rice
Whole wheat couscous
Whole wheat pasta
Vegetables
Peppers
Cucumbers
Spinach
Grape tomatoes
Mushrooms
Zucchini
Shredded cabbage
Asparagus
Broccoli
Cauliflower
Carrots (shredded or finely chopped)
Dressing
Hummus
Greek yogurt
Oil and vinegar or lemon juice
Pesto
Vinaigrette
Protein
Tofu
Black beans
Hard boiled eggs
Chickpeas
Edamame
Kidney beans
Cooked chicken or turkey
Toppings
Black or green olives, sliced
Sprinkle of feta cheese
Avocado
Shredded cheese
Pumpkin seeds
Fresh herbs