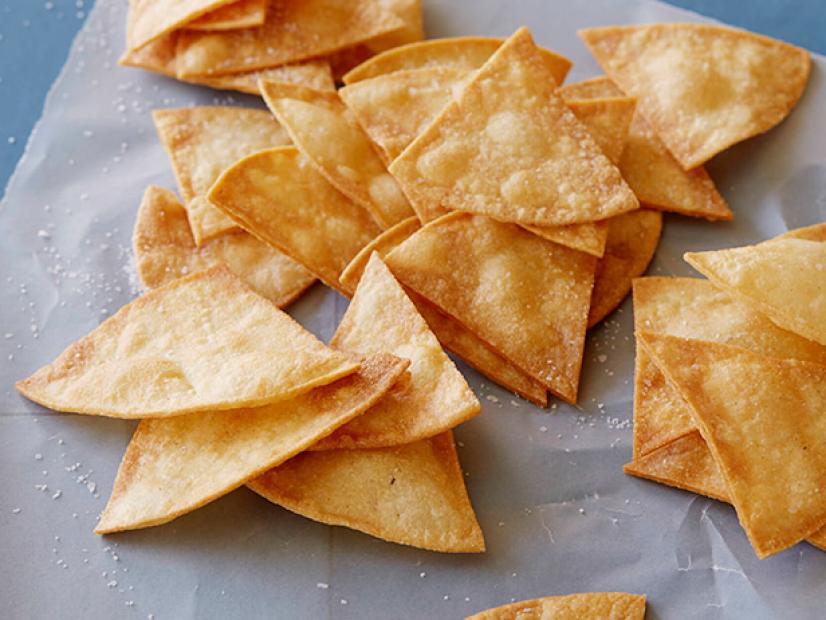 These crispy, whole grain, baked chips add super crunch to lunch and are perfect for dipping. Look for pitas made from whole grain whole wheat flour to boost the fibre and nutrient content of these crisps.
Ingredients:
1 whole grain pita (6 inch), cut into 2 halves
1 tsp mild-flavoured oil, such as corn or soy
1 tbsp grated Parmesan cheese
1/8 tsp garlic powder
Method:
Preheat oven to 350°F and line baking sheet with parchment paper.
Open the pita carefully so it does not tear.
Brush the inside of each half with oil. Sprinkle with Parmesan cheese and garlic.
Cut each half of pita into 8 triangles using a knife or pizza cutter.
Bake about 7 minutes, or until triangles are golden and crispy.
Nutrition facts (per 8 crisps): 120 calories, 4 g fat, 17 g carbohydrate, 5 g protein, 218 mg sodium, 2.5 g fibre.
Soy Hummus
In this unique version of hummus, traditional sesame seed tahini is replaced with the equally "nutty" taste of soy butter. Bonus: it's now school-safe for classrooms where nuts and seeds are restricted.
Makes 8 servings (each serving is 1/3 cup)
Ingredients:
19 oz. can no-salt-added chickpeas, drained
1/4 cup silken tofu
1/4 cup fresh lemon juice
2 tbsp soy butter (such as Wowbutter)
1 tbsp extra virgin olive oil
2 tsp ground cumin
1 clove garlic, minced
1/2 tsp salt
1/4 tsp freshly ground black pepper
Method:
In a food processor, add chickpeas, tofu, lemon juice, soy butter, oil, cumin, and garlic.
Process until smooth.
Add salt and pepper, adjusting to taste.
Serve with whole grain pita crisps and vegetables for dipping.
Note: If you use canned beans that contain added salt, omit the ½ tsp of salt in the recipe.
Nutrition Facts (per 1/3 cup serving): 156 calories, 6 g fat, 20 g carbohydrate, 7 g protein, 150 mg sodium, 4 g fibre.