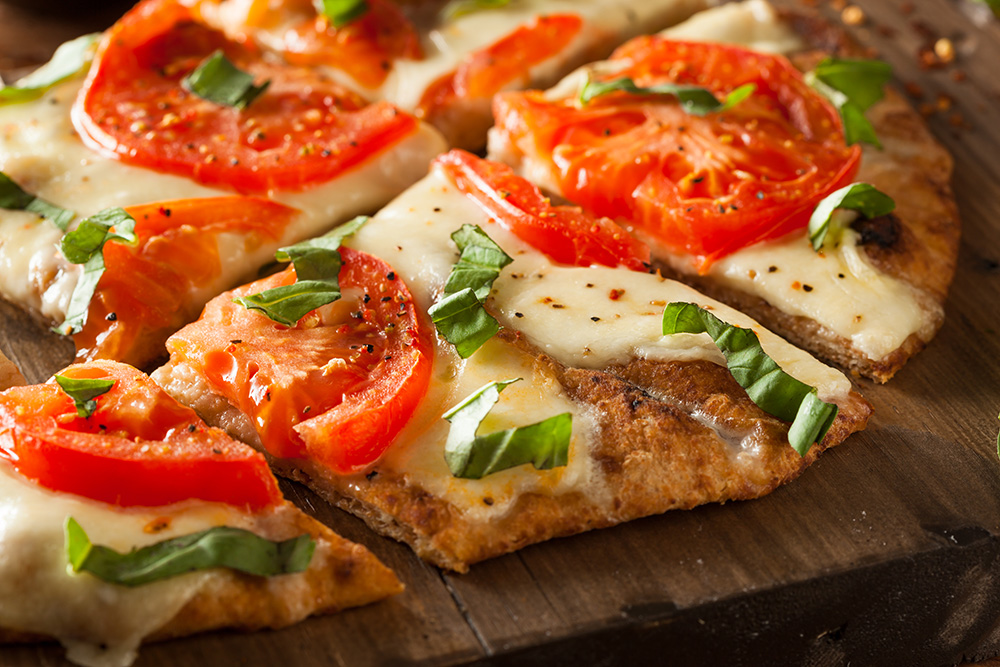 Flatbread's make the perfect appetizer and pizza base! Made from simple ingredients that include whole wheat flour and water, it's not wonder flatbread's have been a staple in human diets for 5,000 years.
In this recipe, there are two steps: Make our homemade flatbread, then top it with some of your favourite ingredients!
To make the flatbread:
Ingredients:
2 ¼ tsp of dry active yeast
1 cup whole wheat pastry flour
1 cup all–purpose flour
½ tsp kosher salt
1 tsp sugar
1 tbsp vegetable oil
¾ cups of warm water
Directions:
Combine the warm water and sugar in a bowl
Stir to dissolve.
Sprinkle the yeast over the top and let that become foamy (approximately 5-6 minutes).
While that is foaming, combine flours and salt in a large bowl. Mix well
Pour foamy, yeast water mixture into the flour mixture.
Stir until a dough ball forms
Knead for 3-4 minutes or until smooth and stiff. Add flour to prevent sticking.
Place dough in a lightly oiled bowl, cover with a clean kitchen cloth and allow to rise (1-1.5 hours).
Divide dough into 4 small balls.
On a floured surface, roll balls out until flat or 1/4 inch thick – you don't want them super think or they won't cook properly!
Cook in a hot skillet with a little oil for 3-4 minutes on each side


Recipe Tip: Flatbread's can be made up to one day ahead as long as they are stored in an airtight container at room temperature!
To top the flat bread:
Ingredients:
Here's the fun trick, you can top your flatbread's with any number of ingredients or combinations of fruit, vegetables, sauces, cheeses and meats! Think of it as a gourmet pizza and add what you and your family want!
Some of our favourite toppings combos are:


Thinly sliced fresh mozzarella cheese, tomatoes, basil and garlic make the perfect Margherita Pizza flatbread.
Pulled chicken with mozzarella cheese, fresh avocado, crispy bacon, red peppers, and ranch sauce!
Havarti and Parmesan cheese, BBQ sauce, fresh diced pineapple, bacon, and ham for a fun spin on Hawaiian Pizza
Portobello mushrooms, one shallot, mozzarella cheese and Parmesan cheese, pesto sauce, fresh spinach and crumbled ground beef.
And the super-easy four cheese and broccoli pairing: add parsley, basil, broccoli florets, grated cheddar, Gouda, Parmesan and crumbled feta cheese on top! Yum!
Recipe Tip: Try searching online for many different combinations to top a flatbread for more inspiration
After topping your flatbread's, simply:
Place flatbread on a baking sheet.
Bake in the oven for 5 minutes at 400°C
Broil until cheese is melted- this only takes a minute or two so watch carefully so it doesn't burn!
#TrainWithGrainsTip use whole wheat flour when making the flatbread's and top them with many of your favourite fruits or vegetables and protein sources to keep this as a healthy balanced appetizer!