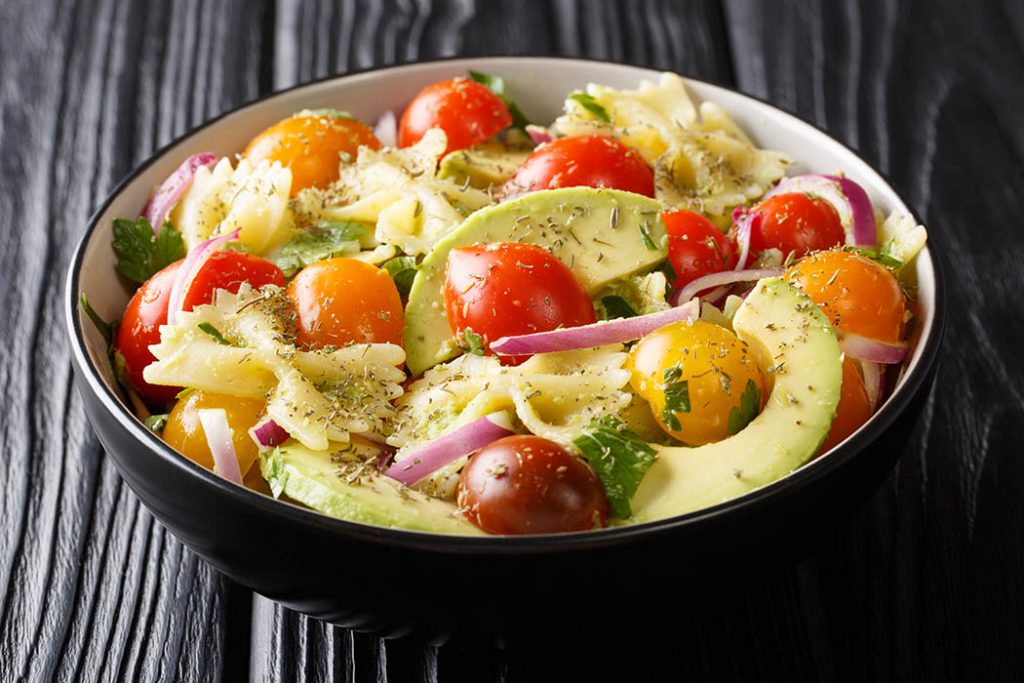 This refreshing pasta salad features Italian dressing and fresh cut veggies. Bonus: make your own Italian dressing with our recipe below!
Yield: 3 servings
Prep time: 5 minutes
Cook time: 10 minutes
Ingredients
3 cups whole wheat pasta (penne or bowties)
1 medium red onion (sliced in wedges)
1 cup cherry tomatoes (cut in halves)
½ cup green pepper (sliced in wedges)
½ cup red pepper (sliced in wedges)
½ cup avocado (cut in wedges)
½ grated parmesan cheese
1 cup Italian dressing
Directions
Cook pasta until soft, cool. Chop vegetables and mix into cooled pasta.
Pour Italian Dressing over the entire salad.
Mix.
Top with grated parmesan cheese.
BONUS! Italian Dressing dry mix:
1 tablespoon garlic powder
1 tablespoon onion powder
1 tablespoon white sugar
2 tablespoons dried oregano
1 teaspoon black pepper
¼ teaspoon dried thyme
1 teaspoon dried basil
1 tablespoon dried parsley
¼ teaspoon celery salt
Directions
Combine dry mix ingredients.
Whisk together ¼ cup white vinegar, 2/3 cup corn oil, 2 tbsp water.
Mix in 2 tbsp dry mix.