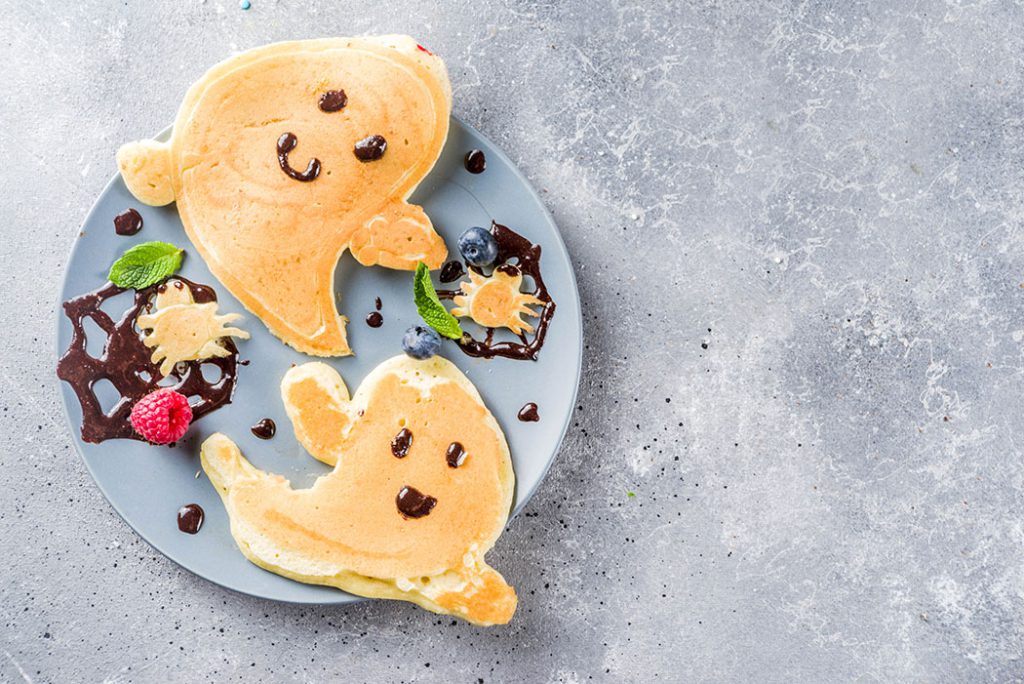 Start your kids Halloween morning off with a boo with Ghost pancakes! These homemade pancakes have a cute holiday twist, with melted chocolate chip eyes and mouth. Don't want to use chocolate? Use nut butter to draw on the eyes and mouth.
Yield: 4 pancakes
Prep time: 5 minutes
Cook time: 5 minutes
Ingredients
1 cup (250 ml) whole wheat flour
⅔ cup (160 mL) wheat bran
½ tsp baking powder
2 tbsp (30 ml) granulated sugar
¼ tsp salt
1 cup cottage cheese
4 eggs
⅓ cup milk
½ tsp vanilla
1 tsp soy oil
¼ cup chocolate chips, melted
Maple syrup
Directions
Add flour, wheat bran, baking powder, sugar and salt in a mixing bowl. Mid well
In a separate bowl, stir together cottage cheese, eggs, milk, vanilla and soy oil.
Stir wet ingredients into dry ingredients until well mixed. Add small amounts of milk if too thick.
Heat a frying pan over medium heat.
Carefully pour pancake batter into a frying pan in the shape of a ghost. Try using a syringe or icing bag filled with batter to draw the outline of the ghost and then fill it in by pouring in batter!
Cook until golden brown on both sides
Remove from heat and cool.
Using melted chocolate chips, pour on eyes and mouth.
Drizzle maple syrup over top, and enjoy!
#TrainWithGrainsTip: Use consistent and even medium heat to cook your Ghost Pancakes. Cooking them too high will cause them to burn on the outside and be under cooked. If possible use a griddle for the best pancakes!
Looking for another pancake recipe?
Try making whole wheat banana and nut pancakes using whole wheat flour and wheat bran. Top with sliced bananas nuts and honey!
Get the recipe