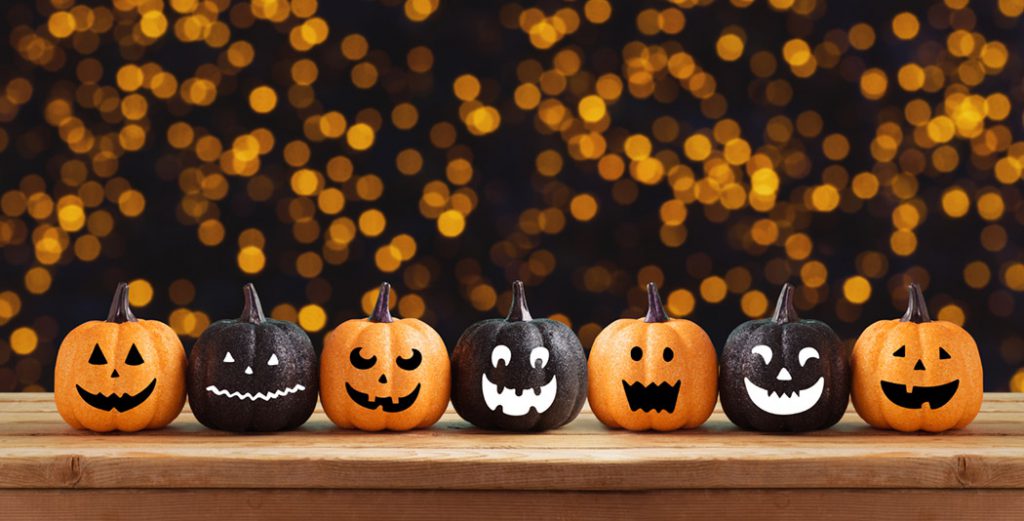 Halloween is just around the corner and we've compiled a list of fun holiday snacks. These recipes will impress your friends at you Halloween party or spice up your Instagram feed. These spooky recipes all include grains to help you stay healthy during this sugar heavy season!
Pretzel Spiderwebs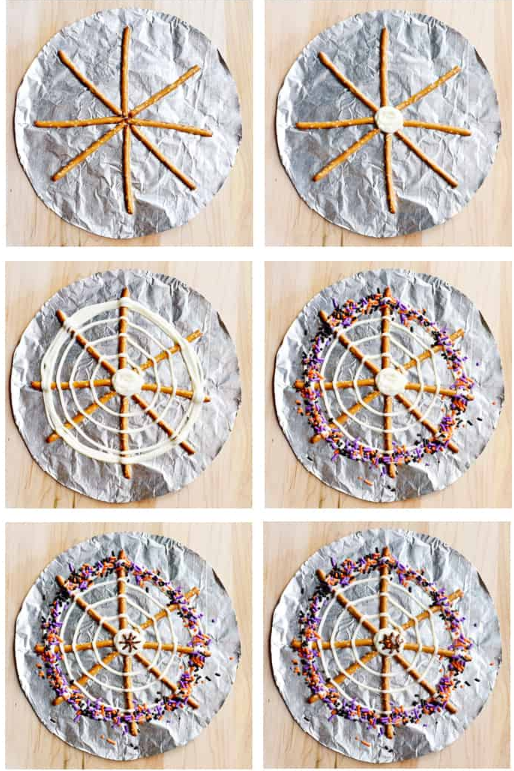 This simple recipe uses pretzels, white icing or candy coating and whatever candy decor you like. Its simple to create but looks awesome. Pretzels are made using wheat that can be grown here in Ontario. Pretzel makers also use malt made from barley or corn to help give the outside of the pretzel the crunchy taste and brown appearance.
Did you know that during the first and second World Wars, barley was used as a coffee substitute while trade was blocked? Now barely coffee is considered a delicacy! Check out the recipe and step by step guide here!
Mummy Pumpkin Cookies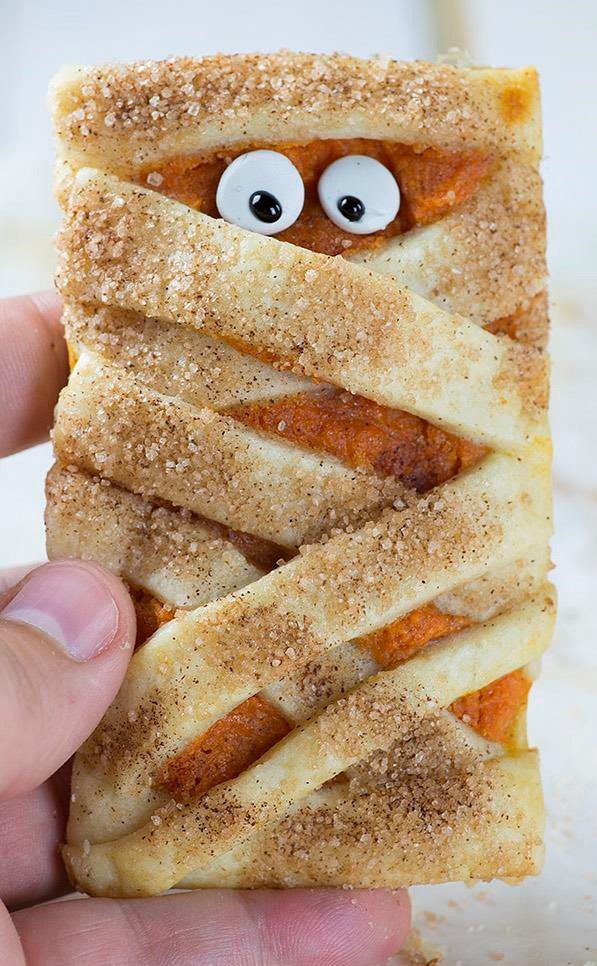 Lets pumpkin-spice this up for the next recipe! These cookies combine the taste of autumn with the spirit of Halloween. For those of your who didn't get enough pumpkin over thanksgiving, this recipe uses everyone's favourite Halloween décor with a spooky twist. This recipe shows you how to make the pastry and pumpkin from scratch but those looking for a short cut can use puff pastry or pie crust. This recipe uses all purpose flour made from Ontario wheat!
Boo-Scotti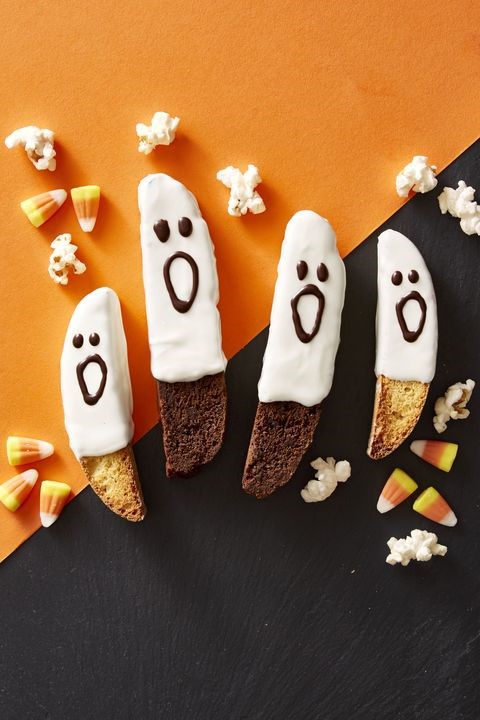 This is another simple to make recipe that will definitely impress your friends and family at your next brunch! Biscotti, a classic partner to coffee or tea, can be easily dressed up to make this spooky, and punny, holiday snack. It uses biscotti, made from wheat, dipped in white chocolate and decorated with melted milk chocolate. So easy its scary! Wheat flour contains a mix of fibers which helps with digestion and the growth of helpful probiotic bacteria in the digestive tract!
What's a ghost's favourite kind of biscotti? Boo-Berry!
Skeleton Cupcakes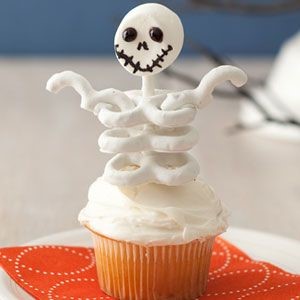 This recipe may look scary – pun intended – but its actually very easy to recreate! It involves making cupcakes, either from scratch or from a box, and decorating it with marshmallow and pretzels! The spine and head are made from a marshmallow on a lollipop stick. The ribcage and arms are made out of yogurt covered pretzels. Bone-Appetit!
#GoodGrainsFact: Did you know that marshmallows are made from corn syrup and corn starch? This and approximately 2,500 different products in the grocery store have corn as an ingredient!
Spinach Dip in a Cauldron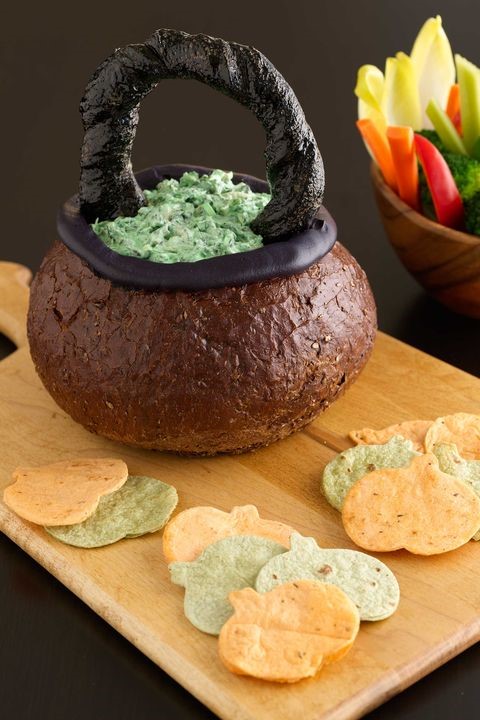 This recipe is a Switch up on a classic pot luck dish, spinach dip! It involves making a cauldron out of pumpernickel bread and adding green food colouring to the dip! These guys even went above and beyond and made pumpkin shaped tortilla corn chips! You can also check out our potion for home made pitas or wheat thins! Pumpernickel bread is made with coarsely ground rye and wheat flours. Because of this, it has a low glycemic load and aids in digestion! This recipe looks so tasty it's almost magic…
Did you know that there is a type of wheat grown here in Ontario called Winter Wheat? It is planted in the fall and remains dormant under the snow until spring, then it starts growing again!