Ontario corn fed roast with barley risotto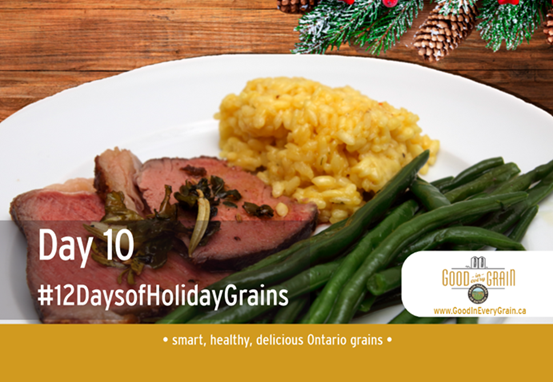 Day 10 of our #12DaysofHolidayGrains countdown!
We know in some families there are a lot of dinners and meals that happen over the holidays. If your looking for recipe inspiration for your next meal, why not try a Sunday dinner staple- roast beef. Try it with Ontario corn fed beef made from Ontario quality grain corn. Want something a little different to go with? Our barley no stir risotto is no joke; and we've got both recipes below:
Corn fed roast beef
Ontario corn fed beef are fed diets that are 80% corn and corn products that are grown or produced in Ontario. Corn, provides the highest level of energy resulting in a superior beef because of its juiciness, tenderness and flavor. Visit OntarioCornFedBeef.com for more information!
Ingredients:
Directions:
Take your Ontario Corn Fed Beef Roast and marinate it with our Collingwood Whisky Marinade for 24 hours; while marinating cover and refrigerate. Remember to discard any unused marinade that the raw meat came in contact with.
Place roast, fat side up, on rack in roasting pan
Insert meat thermometer into centre of roast avoiding fat or bone.
Cook, uncovered, in 325°F (160°C) oven to desired finished.
Transfer roast to cutting board; tent with foil for 10-15 min to allow temperature to rise
Slice and serve with your choice of Ontario vegetables and our barley no stir- risotto.
Barley no stir risotto
Barley offers up a delicious and rich tasting alternative to rice in a risotto. With its slightly firm texture and easy preparation this creamy risotto is a breeze because there is no continuous stirring involved.
Ingredients:
2 tsp (10 mL) vegetable oil
1 pkg (8 oz/227) mushrooms, sliced
1 onion, finely chopped
4 cloves garlic, minced
1 tsp (5 mL) dried Italian seasoning
1 cup (250 mL) pot barley
4 cups (1 L) vegetable or chicken broth
½ cup (125 mL) roasted or sundried tomatoes, chopped
¼ cup (60 mL) light herbed cream cheese
Directions:
In saucepan, heat oil over medium high heat and cook mushrooms, onion, garlic and Italian seasoning, stirring for about 15 minutes or until no liquid remains. Stir in barley to coat.
Add broth and tomatoes; bring to boil. Reduce heat to medium-low; cover and simmer gently for 20 minutes. Uncover and cook for about 20 minutes or until barley is tender but firm.
Stir in cream cheese until melted and creamy; cover and let stand 5 minutes before serving.
Makes 4 to 6 servings.
Follow #12DaysofHolidayGrains to see our 12-day countdown of recipes, decor, and gift guides that support your local Ontario grain farmers!