School-safe healthy reindeer snack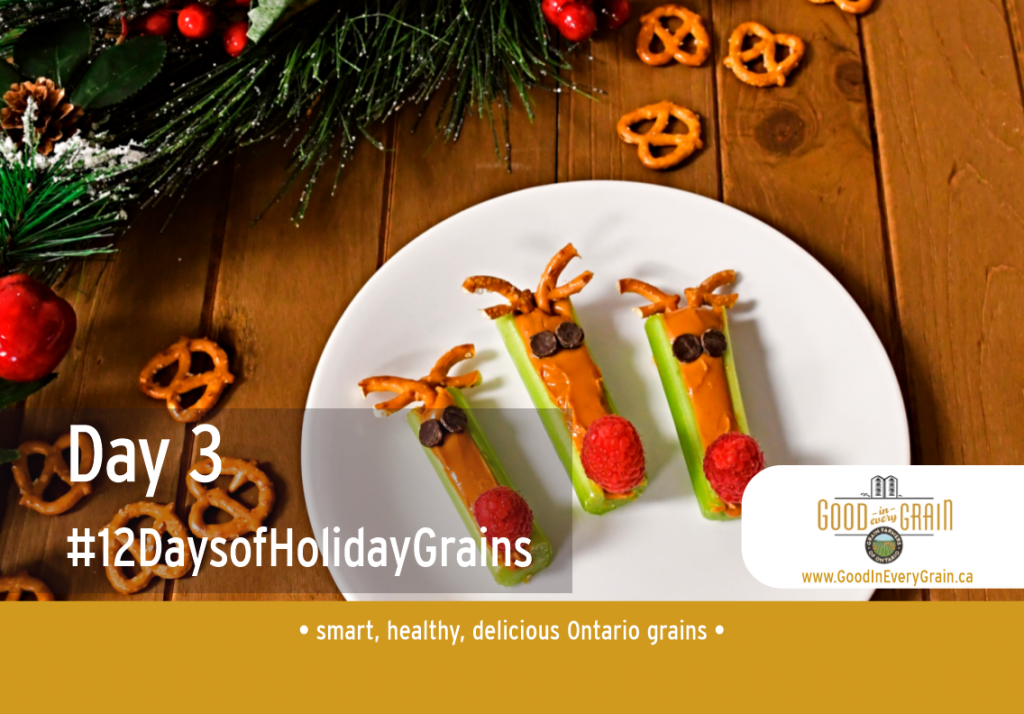 Day 3 of our #12DaysofHolidayGrains countdown
We all know this time of year it can be hard to eat healthy. With all of the holiday baking, family dinners and time spent on the road, it's difficult to have healthy snacks for the entire family.
We've added a holiday touch to a snack time staple : Ants on a Log! We've added some Ontario Grains and a little holiday spirit to make Reindeer themed ants on a log! It' school safe, healthy and easy to make!
Want more grain based recipes? Sign up for our Recipe of the Month! Every month, we'll feature a recipe that uses Ontario grains, plus tips and tricks on how to incorporate healthy whole grains into your lifestyle.
This great snack is school safe as well by switching peanut butter for soy butter! Your child's lunch is sure to be the envy of kids at school this December! Check out some of our other School Safe Lunches! Better yet, get your kids to help make this snack for a fun activity to get them into the kitchen!
Ingredients:
Celery stalks
Soy butter
Pretzels
Chocolate chips
Raspberries
Directions:
Slice celery stalks into 3 to 4 inch pieces
Spread soy butter onto celery pieces
Break or cut pretzels in half to look like antlers and attach to the top of the celery piece
Add chocolate eyes and a raspberry nose for Rudolph! If you want to make the rest of Santa's reindeer, you can use blackberry or banana noses!
Got extra celery? Check out our recipes for homemade soup! Perfect way to warm you up this holiday season! Homemade Soup: Easy to Love, Beef Barley Soup
#TrainWithGrains Tip
Want to make the recipe even healthier? Switch out the chocolate chips for raisins or craisins like we did below!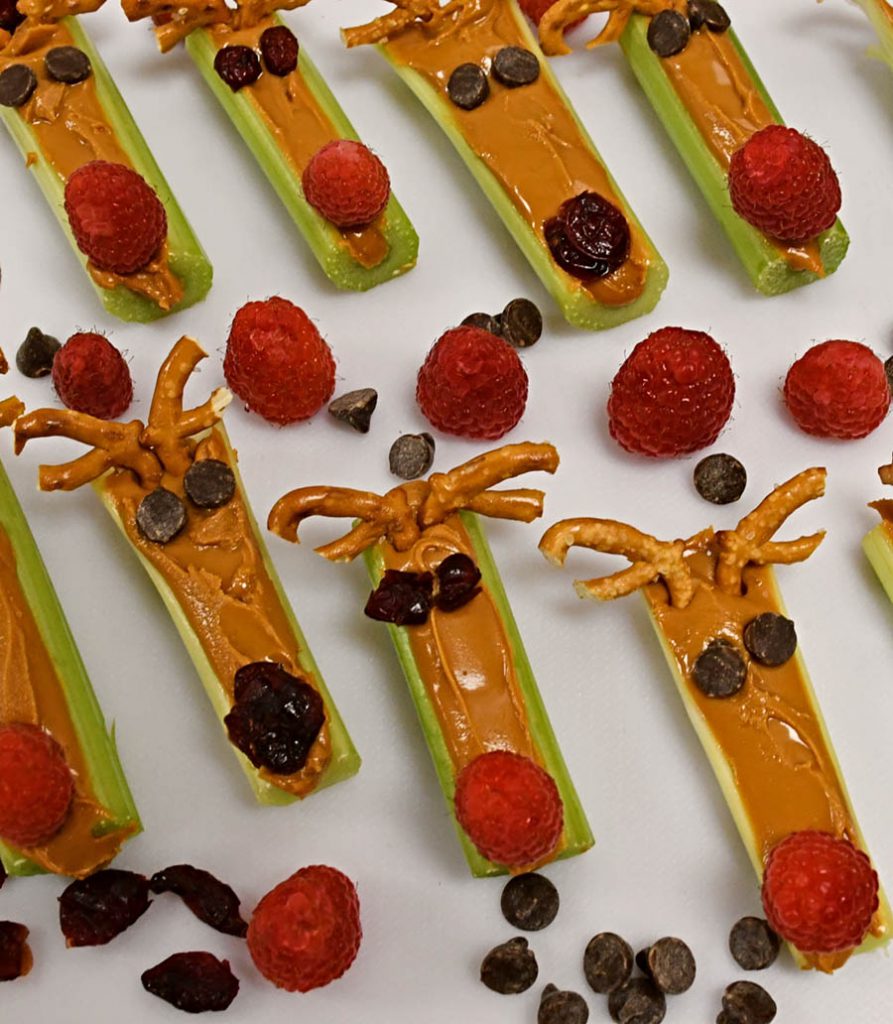 Did you Know?
This recipe actually uses three different Ontario grown grains! Naturally you would think that soy butter of course contains soybeans, Ontario's largest crop in terms of acreage, but did you know pretzels are made of wheat AND barley? Check out other soy based recipes like our Soy Based Humus or our Soy Energy Bites – Perfect for road trip snacks!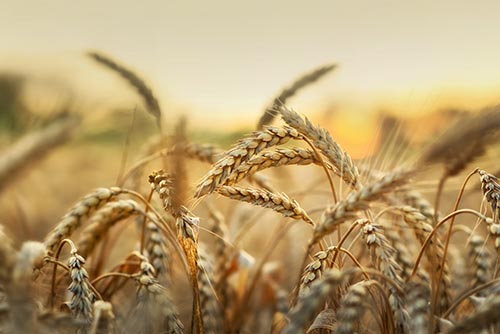 The base ingredient of pretzels is flour, made from soft winter wheat! Ontario is known for its high quality Winter Wheat!
Pretzel makers also use barley to make this crunchy snack! In order to achieve the crunchy brown surface around the outside, manufactures boil the pretzel for a short time in a solution that can contain barley malt! To learn more about barley and its uses check this out!
Tag us in your photos and let us know what you think of this fun holiday recipe!