The Whole Grains Story: Barley and Oats #WhereDoGrainsGo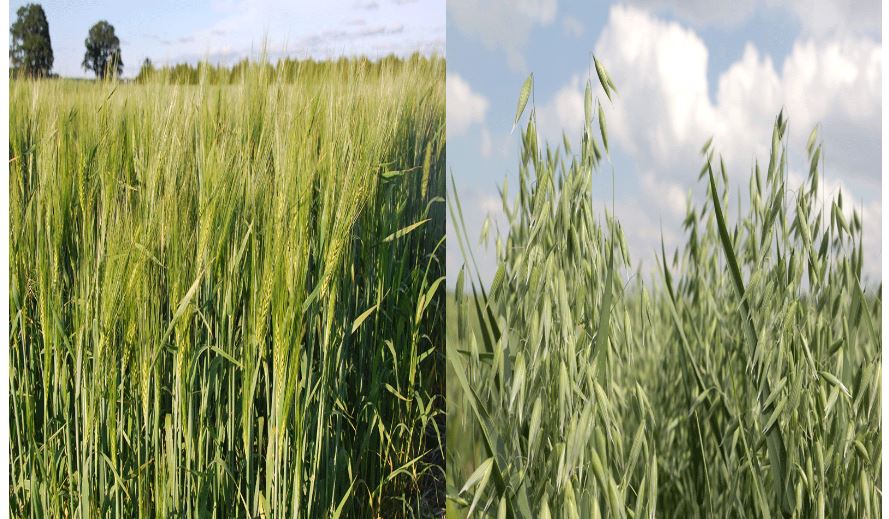 Barley
Barley production in Ontario is relatively small compared to other parts of Canada. on average, 186,000 metric tonnes are produced on 148,00 acres each year which represents 2% of the country's production levels. A slightly downward trend in production has been occurring over the last five years. Alberta and Saskatchewan are the leading barley producing provinces, producing on average 90% of the barley grown in Canada. Globally, the primary barley producing regions are the European Union followed by Russia.
Virtually all of the barley produced in Ontario is used for domestic purposes. Animal feed is the main market utilizing 77% of the harvest – mainly for beef and dairy cattle. Food for human consumption and pet food are two other important markets with 18% of production going into these markets. Food for human consumption includes de-hulled, pearled, toasted, and barley flakes. There is a small percentage used for seed (4%) and a very small volume (<1%) that is exported.
Ontario farmers grow barley on a smaller scale than other grains. However, one industry that offers opportunities for growth is malt barley for craft breweries. While this industry is still being developed in the province and currently does not utilize a large volume of the crop, it represents value-added and niche market opportunities for Ontario farmers.
---
Oats
Ontario oat production is relatively small compared to other grain commodities grown in Ontario. Production levels have remained fairly stable at around 63,000 metric tonnes on 75,000 acres for the past six years.
The vast majority of oat production in Canada is on the Prairies, led bySaskatchewan with over 50% of total Canadian production. Globally, Canada is the third largest producer of oats, behind the European Union and Russia.
Domestic usage makes up the largest market for Ontario oats, utilizing 79% of total production. Food for human consumption is the largest segment making up 60% of total domestic use. Most of these oats are used to produce oat flakes and flours used in cereals and cereal bars. The majority of these oats are produced in Northern Ontario. The Climatic conditions in Northern Ontario produce a higher quality oat more suitable for the milling industry.
Total animal feed use makes up 33% of domestic usage. The horse feed market is the largest segment of this representing over two-thirds of all feed usage. Horse feed is a premium market for Ontario oats but has declined recently. The remaining animal feed is used primarily on-farm for beef and dairy calves.
Ontario exports 21% of its production. The main export market is the United States where the oats are primarily used for animal feed.