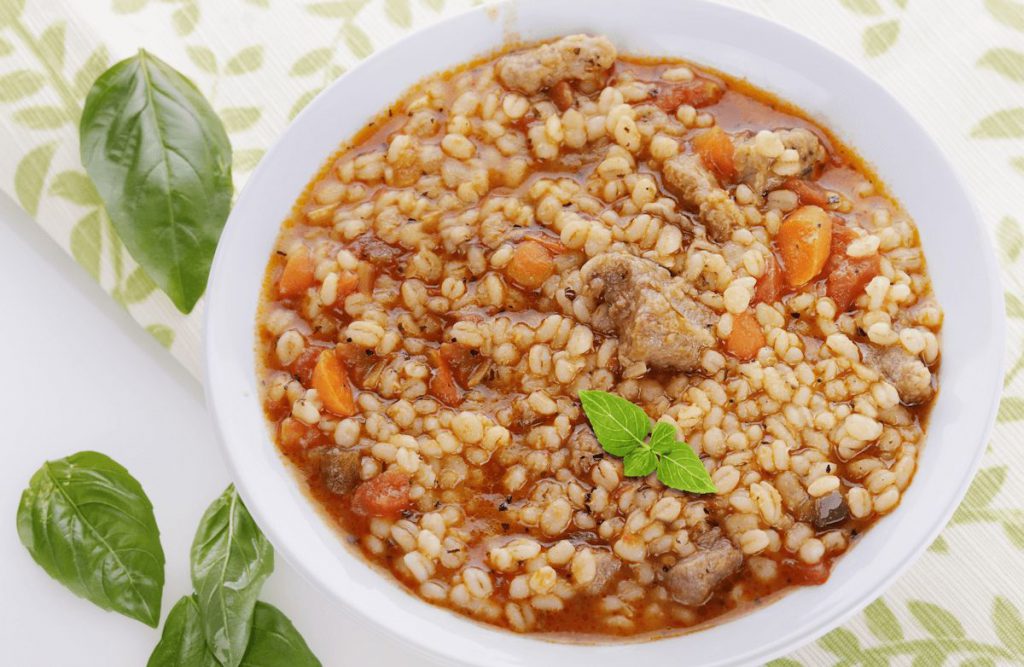 Beef and barley soup features two local Ontario ingredients: barley and beef, and is high in fibre!
Barley is often added to food like soup because it is a great source of additional fibre (1/2 cup of cooked pearled barley contains 2.0 grams of fibre). In a healthy diet, kids 1-8 years old require 19 grams of fibre per day, and kids 4-8 years old need 25 grams per day – so whatever you can do to get some fibre in your diet helps you to have a healthy balanced diet.
Yield: 10 servings
Prep time: 10 minutes
Cook time: 60 minutes
Ingredients:
1 cup carrots (chopped)
1 cup onions (chopped)
1 cup celery (chopped)
2 tbsp butter
2 cups stewing beef (finely chopped)
6 cups water
6 cups beef broth
1 can of diced tomatoes
½ cup dry pearl barley
2 tsp salt
1 tsp ground black pepper
Directions:
In a large pot, cook onions, celery and carrots with the butter. Once the onions and celery are tender, about 6-8 minutes, stir in the beef.
Cook, stirring often, until the beef is cooked. This should take another 6-8 minutes.
Add the water, beef broth and diced tomatoes. Bring to a boil and stir in the remaining ingredients including the barley.
Let the soup cook at a low rolling boil for 30-45 minutes. The barley should be fully cooked and the beef should be tender.