Simple nutritious brown-bag lunches for work and school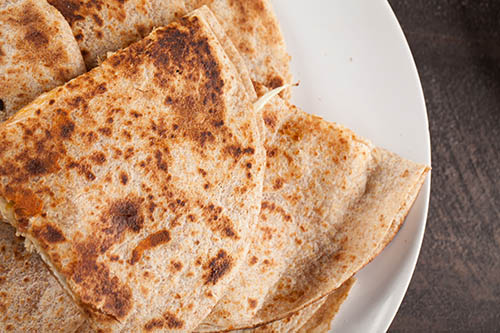 Meal prep doesn't have to take all weekend for you to enjoy healthy lunches and snacks during the week. This twist on two favourites combines the gooey cheese and toppings of pizza with the easy handheld goodness of tortillas.
Choose whole grain tortillas for an extra nutritional punch of essential nutrients, including fibre. Only 65 per cent of Canadians ensure fibre is included in their diet plans, and here at Good in Every Grain we know how important fibre is to a healthy balanced lifestyle. The tortillas are also a good source of iron, another important nutrient that only 40 per cent of people deliberately include in their diet.
Enjoy this delicious pizzadilla and serve with tofu dipping sauce for extra protein.
Whole Grain Pizzadillas and Tofu Ranch Dipping Sauce
Ingredients:
2 tbsp (30 mL) sodium-reduced tomato sauce
2 whole grain wheat tortillas (6-inch rounds)
1/3 cup (80 mg) shredded mozzarella or soy cheese
2 tbsp (30 mL) finely chopped sweet peppers
1 small mushroom, thinly sliced
12 oz. (350 grams) silken tofu
¼ cup (60 mL) apple cider vinegar
3 tbsp (45 mL) lemon juice
1 tbsp (15 mL) olive oil
2 tbsp (30 mL) chopped fresh Italian parsley
2 tbsp (30 mL) chopped fresh dill
¼ tsp (1.5 g) garlic powder
¼ tsp (1.5 g) salt
¼ tsp (1.g) pepper
Directions:
Spread tomato sauce on one tortilla. Sprinkle cheese, sweet peppers and mushrooms over sauce. Top with second tortilla.
Cook in non-stick pan over medium heat, turning over once until golden-brown and cheese is melted; about 4 to 5 minutes.
Let cool and cut into wedges.
For the dipping sauce, combine tofu, lemon juice, vinegar, parsley, olive oil, dill, garlic powder, salt and pepper in a food processor and process until smooth. Adjust salt and pepper to taste.
Serve with pizzadillas and assorted vegetables for dipping.