Keep grains in your summer meal plans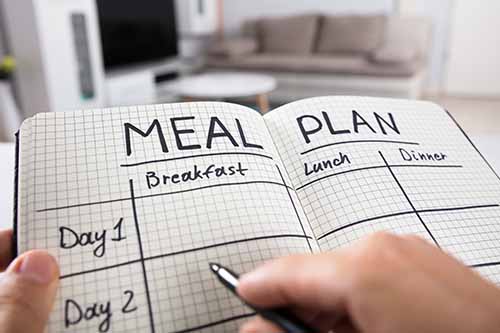 It's the beginning of June and 2019 is almost half gone, which means summer will finally commence! Not surprisingly, many families are working towards keeping up their schedules and routines until the school year ends. With only a few weeks left of school, how are you keeping up with your everyday eating routine?
I often have people approach me and ask for recipe ideas to change up meals to keep things interesting throughout the week. I understand that eating the same meals several days per week can get boring or repetitive! With summer break around the corner, meal planning and keeping fun, healthy meals on the table can be a challenge for busy families. Have you thought about including more grains into your diet? As a dietitian, I find grains are always a nutritious, delicious and versatile option for multiple meals!
Grains are an important part of our everyday diets. Whole grains, in particular barley, oats, soybeans, and whole wheat products provide many nutritional benefits. Not only does the fibre content keep you regular, they can help lower cholesterol and control blood sugar levels, and are also an important source of b-vitamins, minerals, protein and antioxidants. But don't knock the refined grains such as white bread and pasta. They too have been enriched or fortified with b-vitamins (niacin, thiamine, vitamin B6, folic acid) and iron as regulated by the Canadian Food Inspection Agency. Fortification ensures Canadians are not at risk for nutritional deficiencies.
Here are a few tips on how you can incorporate grains into each meal throughout the day:
Overnight Oats Help Make Mornings Easier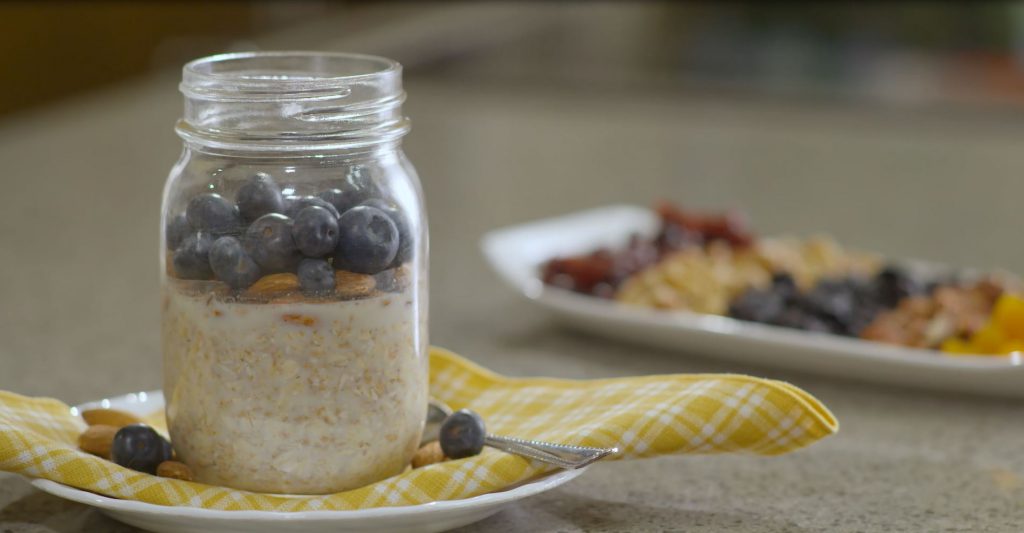 Do you struggle with busy mornings, leaving little to no time for breakfast? Personally, I am not a morning person at all. Breakfast prepared the night before, along with my morning coffee (a necessity) is what gets me going for those early morning TV segments! If you're rushed to get out the door in morning, try preparing your breakfast the night before to ensure a successful start to the day. This easy Overnight Oats in a Jar recipe is healthy and versatile. Use whatever fruit you like: berries, bananas or seasonal fruit and you have a delicious grab n' go breakfast that took you no time in the morning.
Other things like filling up your reusable water bottle the night before and leaving it by your purse/briefcase so you don't forget it in the morning can help ensure you stay hydrated. It's also great because it can deter you from reaching for other sugary beverages such as pop or juice. A refillable bottle prevents you from purchasing bottled water, which is not great for the environment or for your wallet!
Grains in Your Lunch
I find having grains in your lunch box helps to round out a meal. Sure, sandwiches are great – but it might be fun to switch it up once in a while. Wheat berry's are just wheat seeds that can be cooked like rice and are great in salads. Our Greek Style Wheat Berry and Lentil salad is easy to make, and super tasty with feta cheese added. Add a boiled egg, a bunch of grapes, and carrots and celery sticks to balance out the whole meal. For kids, these whole grain pizzadillas – a cross between pizza and quesadillas are a creative and fun lunchbox idea.
If you have a hard time packing lunches, try this technique: cook once, eat twice. Make enough dinner for lunches the next day. Leftover pasta or a casserole always makes a delicious hot lunch!
Beat the 3 pm Slump with Soybeans
Do you find you get tired by 3:00pm? Often this can be attributed to a lack of sleep the night before, or from consuming a large lunch that can leave you feeling sluggish. If you are feeling tired, it might mean you need to re-fuel with food instead of reaching for coffee. Try whole grain crackers with cheese and our delicious soy hummusfor a tasty afternoon snack. Not hungry? Re-fresh with a short walk (especially nice in the summer) and water to help you feel more energized.
Barley for Busy People
Do you find that your evenings are rushed in getting dinner on the table? Barley is delicious, nutritious and a grain that cooks well in a slow cooker. This Beef and Barley Soup is a recipe you can make right before dinner or added to a slow cooker the morning of. Eight hours later, you have a hot, healthy and delicious meal ready for dinner.
I hope these tips give you ideas on how versatile grains can be, and how you can include them into your everyday eating. Do you consume oats, bread, soy beans and/or barley on a regular basis? Have you tried any of our recipes from our blog? Please leave us a comment below, as we would love to hear from you!


Michelle Jaelin is TV and digital media Nutrition Expert, licensed registered dietitian, creative food content developer and writer at NutritionArtist.com. She resides on the Hamilton mountain with her spouse and rescue dog. Follow her @nutritionartist on Instagram and Twitter.