Combine to Kitchen – Greek-style wheat berry and lentil salad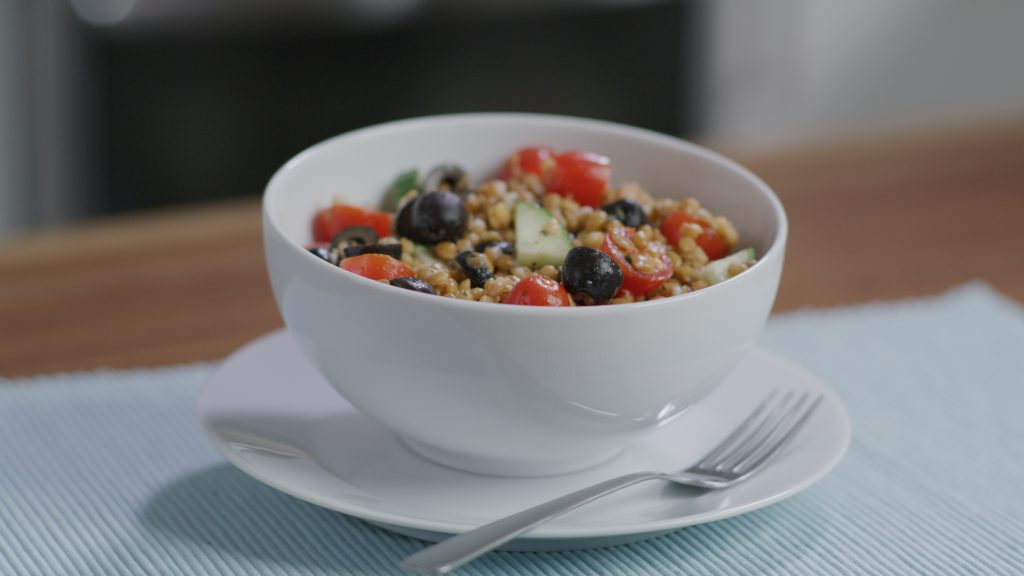 Enjoy this Greek-style wheat berry and lentil salad along-side a green salad for lunch or as a side with dinner.  This salad packs perfectly to enjoy for lunch at school or work!
Yeidl: 2 servings
Prep time: 5 minutes
Cook time: 25 minutes (to cook wheat berries)
Ingredients
Salad:
2 cups cooked wheat berries
2 cups of cooked lentils OR 1 can (540 ml can) lentils, drained and rinsed
¾ cup diced cucumber
¾ cup halved grape tomatoes
¾ cup sliced black olives
Feta cheese
Dressing:
2 tbsp oil
1 tbsp white balsamic vinegar
1 tbsp apple juice
½ tsp minced garlic
½ tsp dried oregano
½ tsp dried basil
½ tsp parsley flakes
¼ tsp Dijon
Directions
In a large bowl, combine the wheat berries, lentils, cucumber, grape tomatoes and black olives.
To make the dressing, combine all of the dressing ingredients in a 250 ml jar and place the lid on tightly. Shake to combine.
Pour the dressing over the salad ingredients and gently stir to combine. Sprinkle with feta cheese.
Store any leftover salad in the fridge.
Nutrition Information:
Per 1/6th of the recipe without feta cheese:
Calories: 227 kcal
Protein: 9 g
Carbohydrate: 34g
Fibre: 6.6g
Total Fat: 7g
Sodium: 137mg
Per 1/6th of the recipe with 2 tsp of feta cheese sprinkled on top:
Calories: 244 kcal
Protein: 10g
Carbohydrate: 34g
Fibre: 6.6g
Total Fat: 8g
Sodium: 195mg
Note: the nutrition analysis was calculated using the Canadian Nutrient File, Health Canada, 2015 Food Code 3393 Lentils boiled
Watch #YourFarmer and registered dietitian, Lisa creates this delicious wheat berry salad: