Whole grain pizzadillas with tofu ranch dipping sauce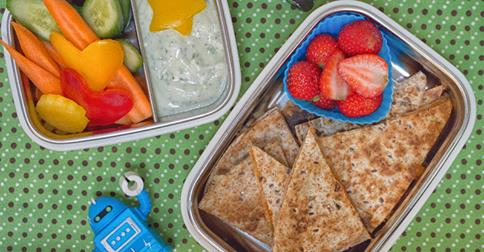 These easy lunchbox fold-overs are a cross between pizza and quesadillas, and a great replacement when your kids get bored of sandwiches. Paired with the creamy tofu ranch dip and assorted vegetables, they'll be a huge hit at lunchtime.
Ingredients
2 tbsp sodium-reduced tomato sauce
2 whole grain wheat tortillas (6 inch rounds)
1/3 cup shredded mozzarella or soy cheese
2 tbsp finely chopped sweet peppers
1 small mushroom, thinly sliced
Directions
Spread tomato sauce on one tortilla.
Sprinkle cheese, sweet peppers and mushrooms over sauce.
Top with second tortilla.
Cook in non-stick pan over medium heat turning over once until golden brown and cheese is melted, 4-5 minutes.
Let cool and cut into wedges.
Serve with tofu ranch dipping sauce.
Nutrition facts (per 1 pizzadilla): 285 calories, 7 g fat, 40 g carbohydrate, 16 g protein, 550 mg sodium, 6 g fibre
Convenience tip: If you have 10 minutes to spare, make the pizzadillas the night before for easy lunchbox packing in the a.m.
---
Tofu ranch dipping sauce
As a dip, dressing or sandwich spread, this wonderful condiment will soon become a staple in your fridge. With the piquant and savoury appeal of ranch dressing, kids will love to use it as a dip, and you'll be confident knowing that unlike commercial dressings, it's not high in calories, fat or sodium!
Yield: 2 servings
Prep time: 5 minutes
Cook time: 5 minutes
Ingredients
12 oz. (350 grams) silken tofu
¼ cup apple cider vinegar 3 tbsp lemon juice
1 tbsp olive oil 2 tbsp chopped fresh Italian parsley 2 tbsp chopped fresh dill, ¼ tsp garlic powder, 1/4tsp salt & 1/4 tsp pepper
Method:
In a food processor, add all ingredients and process until smooth.
Adjust salt and pepper to taste.
Serve with assorted vegetables for dipping.
Nutrition Facts (per 2 tbsp): 28 calories, 2 g fat, 1 g carbohydrate, 2 g protein, 40 mg sodium, 0 g fibre
Parent tip: try this dressing as a sauce for salmon – it's divine!
Convenience tip: if you have a hand blender (also called an emulsion blender), skip the food processor and make this dip right in a bowl!