Fish tacos on a whole wheat tortilla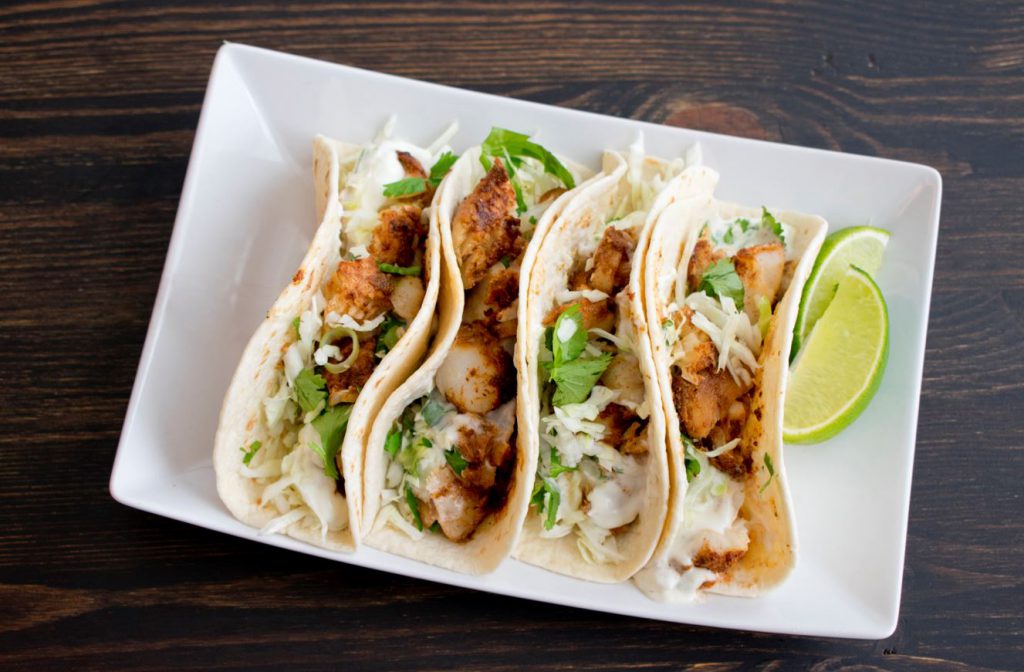 Keep your mind alert and your heart healthy this winter with these Fish tacos on a whole wheat tortilla! Bonus, these tacos deliver a taste of summer as we wait out the cold winter months.
But how can whole wheat and fish tacos keep our minds and heart healthy this winter?
Salmon, trout, albacore tuna, herring and sardines are all sources of omega-3 fatty acids. Omega-3 fatty acids are essential for learning and memory brain functions and are a major building block for the brain. Eating Omega-3's has been linked to improved memory, improved mood and has even been shown to protect your brain from cognitive decline. In fact, many soybean products also can also contain Omega-3 like tofu, and dry roasted soybeans, so if fish isn't your favourite, try adding tofu instead.
Whole grains are consistently linked to increased heart health, therefore it should be no surprise that adding whole wheat, a type of whole grain, to your diet can lower your risk of heart disease. Click here to learn more about eating for heart disease prevention. Choose whole wheat taco shells or tortillas wraps to balance out this heart and mind healthy meal.
Yield: 4 – 6 servings
Prep time: 20 minutes
Cook time: 25 minutes
Ingredients
2 tsp butter, melted
1/2 tsp chili powder
Salt and freshly ground pepper
1 lb trout fillets
1 onion cut into rings
1 red pepper, quartered
1 yellow pepper, quartered
1 jalapeno pepper, seeded and chopped
2 tbsp lemon juice
1/4 cup cilantro, coarsely chopped
12 small whole wheat tortillas or taco shells, learn to make your own wheat tortillas here
1 1/2 cups lettuce, chopped
2 cups Canadian Old Cheddar, grated
Directions
In a bowl, mix butter and chili powder together. Season with pepper. Brush fish with some spicy butter. Add onion and peppers to butter and mix to coat.
Preheat grill to medium-high heat or oven to 450°F (230°C).
Transfer onion and peppers to the grill or a baking sheet. Cook, lid closed if grilling, for 15 min, turning a few times. Add fish and cook for 5–10 more min depending on thickness of fillets. The vegetables should be browned and tender. Remove from heat.
Finely chop vegetables and mix with jalapeno pepper, lemon juice and cilantro to make a veggie salsa. Season with salt and pepper.
Briefly heat tortillas on the grill or in the oven.
Fill tortillas with lettuce, fish, veggie salsa and cheese. Serve with sour cream, if desired.
Recipe by Dairy Farmers of Canada.