Make your own wheat tortillas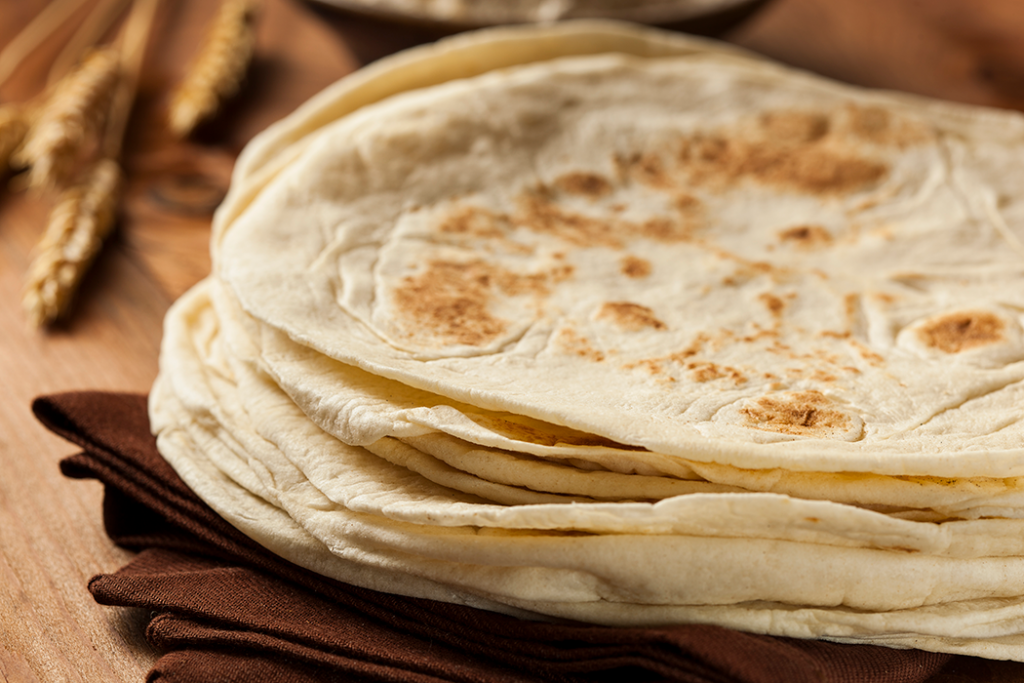 Making your own whole wheat tortillas is fun, easy and tasty! It is great way to get your kids in the kitchen, and something you can enjoy anytime. Made with the goodness of Ontario wheat, these tortillas are superior to store bought tortillas.
Yield: 12 tortillas
Prep time: 20 minutes
Cook time: 6 minutes
Ingredients
2 ½ cups whole wheat flour
1 tsp salt
½ cup olive oil
1 cup water, heated in microwave for 1 minute
Directions
In a stand mixer or a large bowl, mix together the flour and salt. Add the oil and mix with your hands, rubbing the oil into the flour until the mixture is crumbly.
Start by adding ½ cup of the warm water and keep mixing until the dough is smooth, about 4-5 minutes. Add remaining water if needed to make your dough into a smooth ball.
Cut the dough into 10 pieces. Roll each piece into a ball, and let them rest for 15 minutes, covered with a towel.
Once rested, roll out the tortillas into 8-inch x 8-inch circles on a floured surface.
Put a skillet over medium heat and let it warm up for 5-7 minutes before adding your first tortilla. The pan needs to be hot to brown the tortilla and cook it quick.
Place the tortilla into the hot pan and let it cook for 2 minutes on the first side or until the top side starts to puff and the under is golden. Flip over and cook for another minute or 2. Repeat with the rest of your tortillas. Enjoy immediately or cover and store at room temperature for up to 2 days. Can also be frozen for up to 8 weeks.
#TrainWithGrainsTip: Whole wheat tortillas are a great lunch staple instead of a sandwich. Top your tortillas with lettuce, tomatoes, cucumbers, peppers and with your favourite protein. Roll up tightly enjoy!