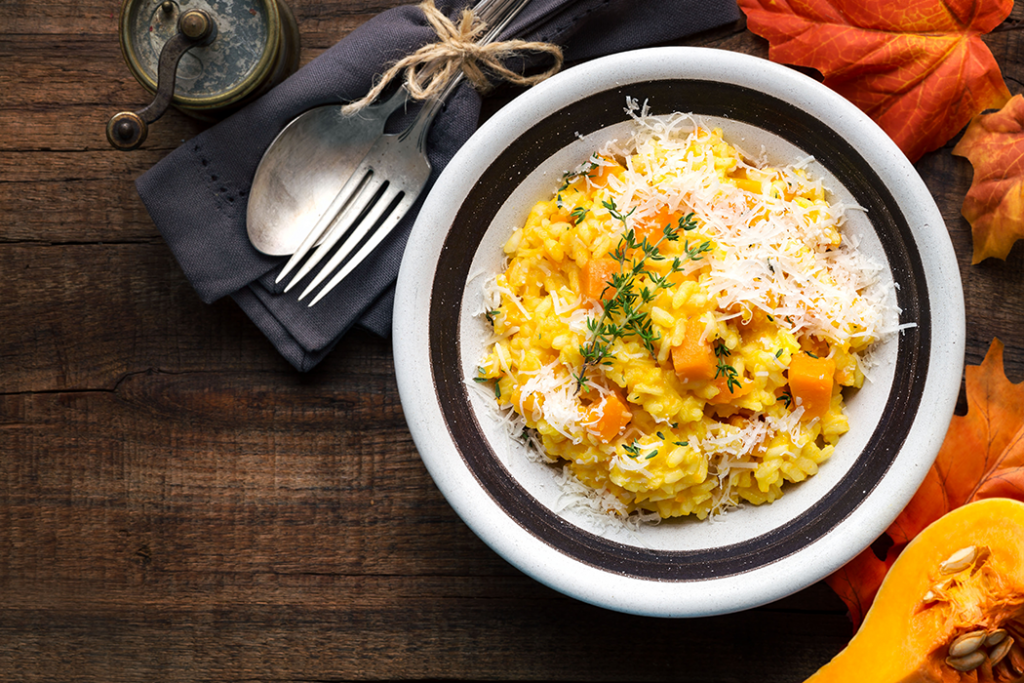 This barley butternut risotto is fueled by the goodness of Ontario barley and has the full taste of fall! This squash-based recipe saves you time by not requiring you to roast the squash beforehand, making this risotto quicker and easier to make. Whole grain barley also adds a great taste, with its rich and nutty flavour.
Yeidl: 8 servings
Prep time: 15 minutes
Cook time: 40 minutes
Ingredients
7 cups low-sodium chicken broth
1 tbsp extra-virgin olive oil
1 small onion, chopped
2 tbsp butter, divided
4 cups cubed butternut squash (from a 2 1/2-lb. squash)
3 cloves garlic, minced
2 cups pot barley (or pearl)
½ cup white wine
1 cup freshly grated Parmesan
2 tbsp freshly chopped sage
Directions
In a medium saucepan over medium heat, bring chicken broth to a simmer. Reduce heat to low.
In a large pot or Dutch oven, heat oil. Add onion and cook, stirring often, until beginning to soften, about 5 minutes. Stir in squash, 1 tablespoon butter and garlic. Cook until the squash is beginning to color around edges and then soft, about 6 minutes. Season with salt and pepper.
Stir in remaining tablespoon butter and barley stirring quickly. Cook until the grains are well-coated and smell slightly toasty, about 2 minutes. Add the wine and cook until the wine has mostly absorbed.
With a ladle, add about 1 cup hot broth. Stirring often, cook until the barley has mostly absorbed liquid. Add remaining broth about 1 cup at a time, continuing to allow the barley to absorb each addition of broth before adding more.
Stir often and cook until squash is tender and risotto is al dente and creamy, not mushy, about 25 minutes. Stir in Parmesan and sage, then season with salt and pepper before serving.
Original recipe from the creative cooks at Delish.