Making your own corn tortillas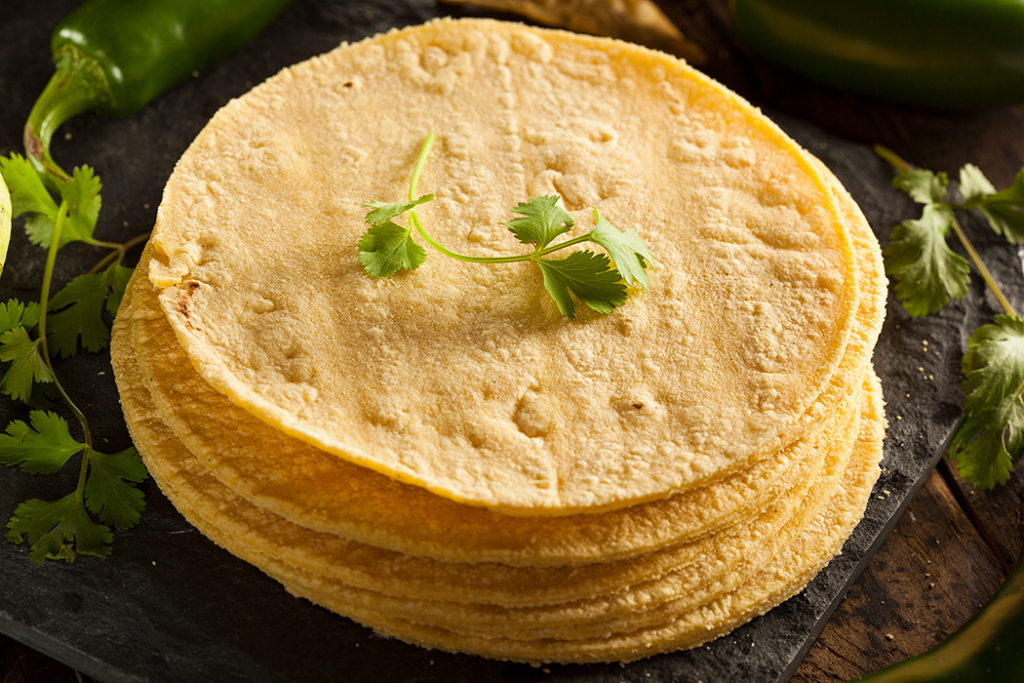 Making your own corn tortillas from scratch is super easy. Corn tortillas require only 3 ingredients, and they taste better than anything you can find at the store! Try making your very own tortillas with the goodness of Ontario grain corn.
Yield: 17 tortillas
Prep time: 25 minutes
Cook time: 20 minutes
Ingredients
Directions
In a large bowl, mix together masa flour and hot water (some brand's package directions call for different amounts of water. Read package direction carefully). Once mixed, let sit for approximately 5 minutes.
Work the masa and water mixture for several minutes with your hands to form a dough. Press the dough with your fingers and palms as if you were kneading bread dough. Dough will be gritty at first, but will become more elastic as you kneed. If dough seems too wet, add more masa; if dough is too dry, add more water.
Pinch off a piece of the dough and rub in-between your hands, forming a ball that is about 5 cm (~2 inches) in diameter. Make about 17 balls.
Cut off a 50 cm (~20 inches) long piece of plastic wrap and lay on the counter. Place a ball in the center of one half of the plastic wrap. Fold one half of the plastic wrap over the ball, so the ball is surrounded in plastic wrap. Using a cutting board, press down on the plastic wrap-covered ball, pressing the ball into a circle.
Heat a well-oiled cast-iron griddle or cast-iron pan on high.
Hold the tortilla in your hand and carefully remove the tortilla from the plastic wrap. Allow the tortilla to rest half on your hand, and half hanging down, and gently lay the tortilla down on to the skillet.
Cook the tortilla for 30 seconds to 1 minute per side. It should be lightly toasted and should have little air pockets forming.
Repeat steps 4, 6, and 7 for each of the balls.
Serve immediately or refrigerate and reheat!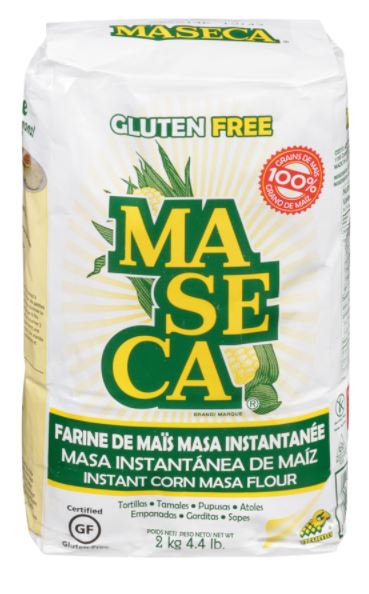 #TrainWithGrainsTip: Curious where you can find corn flour in your grocery store? Look in the baking aisle where wheat flour is kept: normally masa harina or corn flour is in that section.
*image taken from the Real Canadian Superstore website: https://www.realcanadiansuperstore.ca/Food/Pantry/Baking-Ingredients/Flour-%26-Baking-Aides/Instant-Corn-Masa-Flour/p/20183089_EA
Now that you've made your homemade corn tortillas, you can get to cooking! Homemade tortillas make great soft taco shells or nachos! Try these recipes using your homemade tortillas.
---