Spiced tofu and bean tacos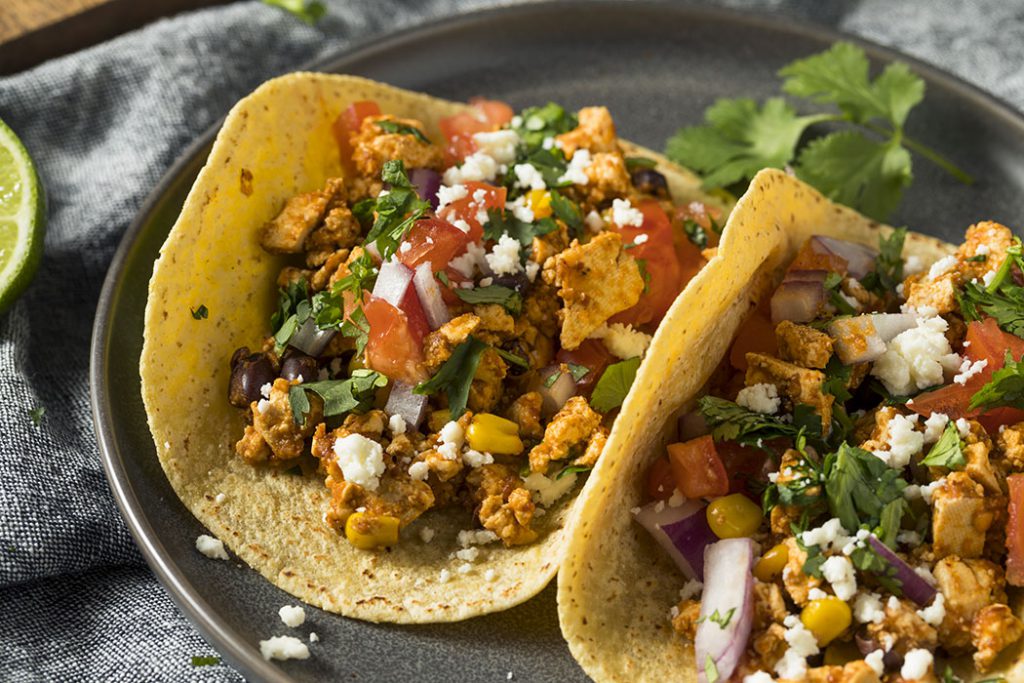 It's a good day when there are tacos on the menu. This high protein dish features tofu made from soybeans paired with black beans, chilli powder, red onions and feta cheese for a mouthwatering weeknight meal. Don't let us "taco 'bout it", try it tonight!
Ingredients
1 block of extra firm tofu- drained
1 ½ tbsp low sodium soy sauce
¼ cup tomato sauce
1 tsp chilli powder
1 tsp garlic powder
½ tsp cumin
¼ tsp black pepper
1 pinch cayenne
1 can black beans- rinsed and drained
½ cup of diced tomato
½ cup of diced red onion
½ cup of corn
A sprinkle cilantro
A sprinkle of feta cheese
Corn flour tortillas
Directions
Preheat oven to 400C.
Crumble tofu into a mixing bowl. Add chilli powder, garlic powder, cumin, black pepper, cayenne, soy sauce and tomato sauce. Stir well.
Add to a baking sheet.
Bake for 20-25 minutes or until tofu is golden brown. Turn tofu over halfway.
Fill corn tortillas with tofu, black beans, tomatoes, onion, corn and sprinkle cilantro and feta cheese to taste on top.
Enjoy!