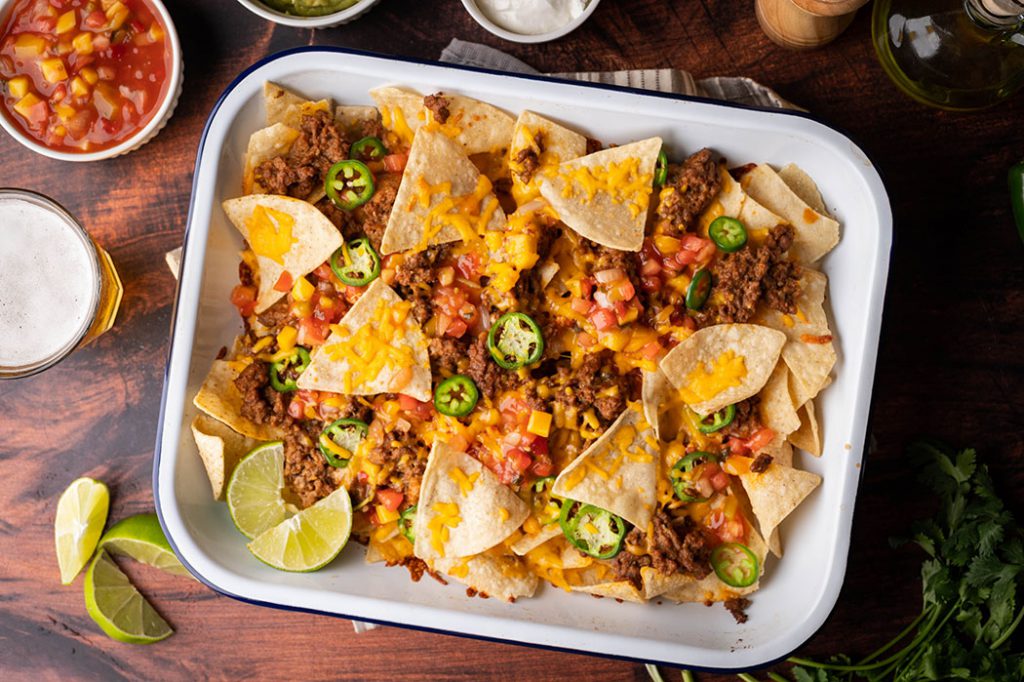 Loaded sheet pan nachos have never tasted so good. Make your own corn chips from corn flour tortillas then top with a spiced beef, salsa, and jalapenos!
Yield: 2-3 servings of nachos
Prep Time: 10 minutes
Cook Time: 25 minutes
Ingredients:
Beef spice mix:
2 tbsp chili powder
1 ½ tsp kosher salt
1 tsp granulated garlic
1 tsp granulated onion
1 tsp ground cumin
½ tsp dried oregano
¼ tsp black pepper
Pinch of cayenne pepper (optional)
Nachos:
1 tsp vegetable oil
1 pound ground beef
16 oz refried beans (2 cups)
¼ cup water
4 ounces cheddar cheese, grated (about 2 cups), plus more for topping
4 ounces Colby Jack cheese, grated (about 2 cups), plus more for topping
1 sliced jalapeño (pickled or fresh)
½ cup red pepper, sliced
½ cup green pepper, sliced
Baked corn tortilla chips:
Corn flour tortillas (standard kind), each tortilla will make 6 chips, 12 tortillas will yield 72 chips.
Kosher salt (or other coarse salt)
Directions:
Preheat oven to 350°F.
Make the taco spice blend by combining all ingredients (chili powder through cayenne) in a small bowl.
To make beef and bean topping heat oil in a saucepan over medium-high heat until it beings to shimmer. Add ground beef and season with taco spice. Break the meat into crumbles as meat begins to cook.
Cook until meat has browned, about 8 minutes. Using a colander, drain the fat.
Return meat to pan and add refried beans and water. Heat until beans are warmed through and smooth.
Reduce heat to low to keep mixture warm while you prepare the corn tortilla chips.
Cut tortillas into wedges.
Spread wedges onto a baking sheet in a single layer.
Bake for 6 minutes, and flip. Sprinkle with salt and bake for another 6-9 minutes, until beginning to brown.
Remove from oven and top the tortilla chips with half of the shredded cheeses. Allowing the heated chips to melt the cheese. Top the chips and cheese with the beef and bean mixture.
Sprinkle nachos with the remaining cheese and return pan to oven for 5 minutes.
Remove from oven and top with jalapenos, green and red peppers.
Finish it off with your favourite toppings and serve with sour cream.
Not hungry enough for nachos? Use the corn flour tortillas chips as a quick snack dipped into salsa or guacamole!