Charred tofu and barley bowl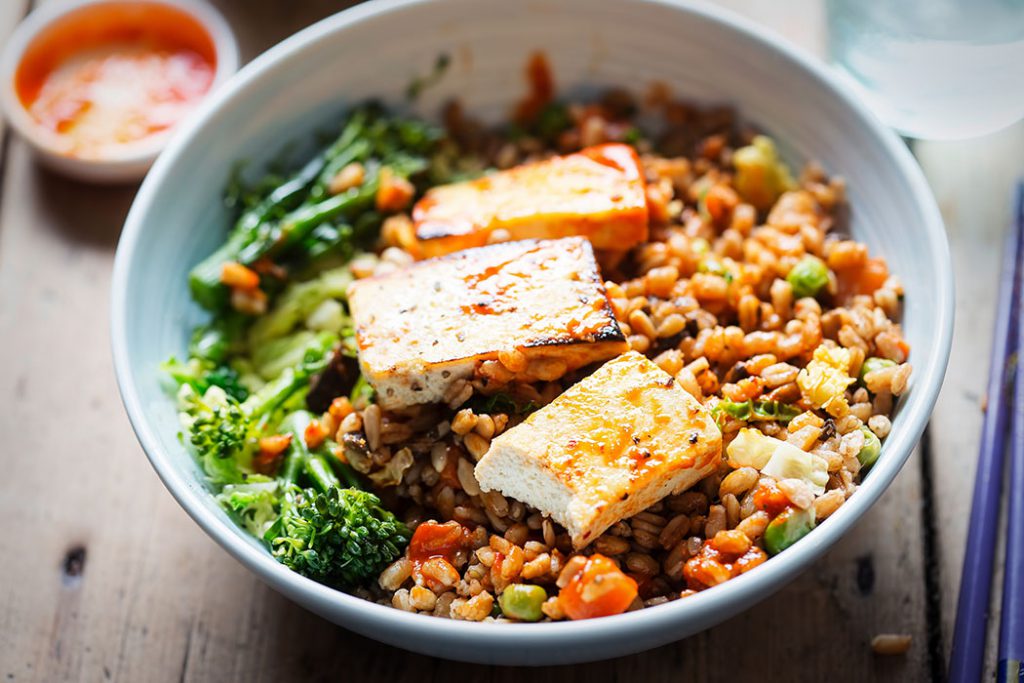 A barley bowl like our Charred tofu and barley bowl is an example of a nutrient-dense and well-balanced meal that is a perfect recipe for Nutrition Month.  March is Nutrition Month; during this month, you should be taking a moment to consider how you can improve your overall nutrition. There have been many studies that show the linkage between the consumption of whole grains and a balanced diet.
According to Canada's Food Guide, whole grain foods are a key factor in a healthy, balanced diet and individuals need an average of three servings of whole grains per day.
Yield: 4 servings
Prep time: 10 minutes
Cook time: 35 minutes
Ingredients
Bowl
1 box firm tofu drained and cut into 1-inch cubes
2 cups pearl barley
6 cups water
1 lb. fresh broccoli, chopped into florets
3 tbsp vegetable oil, divided
1 tsp kosher salt, divided
1/2 tsp red pepper flakes
Sauce
2 tbsp Sriracha (use more Sriracha to increase the spice level)
3 tbsp sodium-reduced soy sauce
3 tbsp honey
Directions
Place tofu cubes on a clean kitchen towel and fold over the top. Place a cutting board on top and lay something heavy on top of the cutting board. A few full cans of soup, beans or vegetables will work.*
Preheat the oven to 400°F (220°C).
To cook pearl barley: add pearl barley and water to a saucepan. Bring to a boil over high heat. Reduce heat and let simmer for 25 minutes. Check the barley and add more water if needed. Barley is done when it has tripled in volume and is soft yet chewy. Check every 5 minutes until barley is done.
Add broccoli to one side of a baking sheet and toss with 2 tbsp oil, ½ tsp salt, and ¼ tsp of red pepper flakes.
In a medium bowl, toss tofu with remaining oil, salt and red pepper flakes. Lay tofu on the other half of the baking sheet. Place baking sheet in the oven.
Cook for 20 minutes, then flip broccoli and tofu. Cook for another 10-15 minutes, until broccoli begins to brown, and tofu is puffed and crisp.
While cooking, create the sauce by whisking together the Sriracha, soy sauce, and honey. Place aside.
Divide barley between 4 bowls, and top with broccoli and tofu. Drizzle with sauce and serve warm!
#TrainWithGrainsTip: Make Charred Tofu and Barley Bowls ahead of time and store extras for an easy meal-prep that can be done for lunches or dinners throughout the week!
*Pressing tofu helps to squish out all the water. This allows the tofu to absorb more flavours and helps the tofu to become crispier when cooking.