Classic Irish stew with barley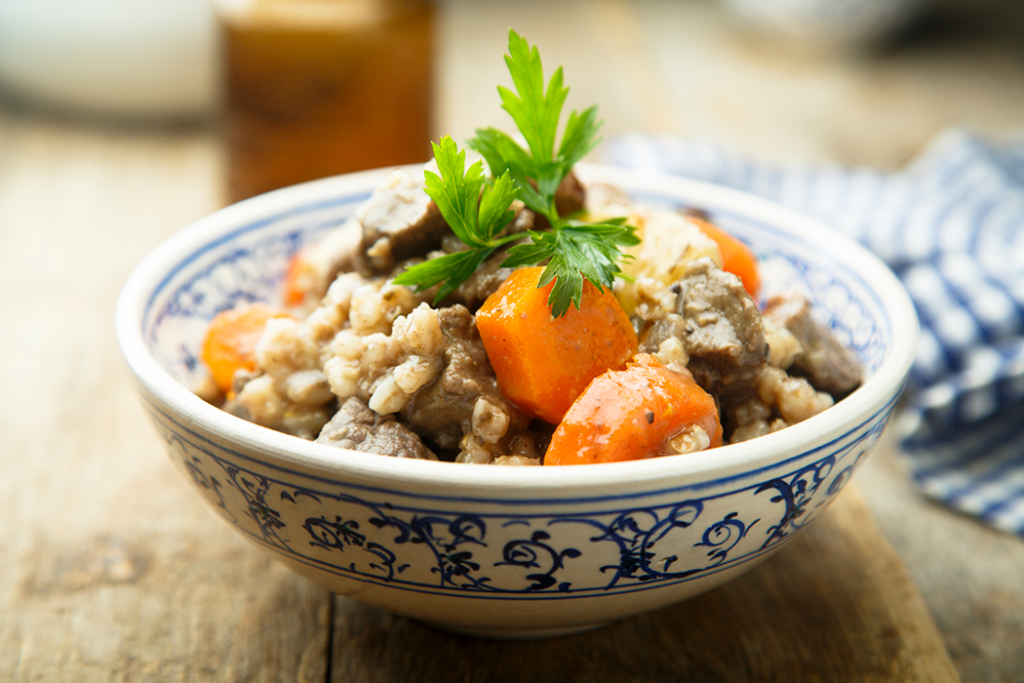 Start your year off with some delicious comfort food, with our Classic Irish stew with barley! This dish has the flavours of Ireland with lamb chops, potatoes, carrots and our whole grain addition of pearl barley.
Not a fan of lamb? Swap out lamb chops and stock for beef stewing chunks and beef stock instead.
Yield: 6 servings
Prep time: 10 minutes
Cook time: 100 minutes
Ingredients:
2 lbs. lamb chops, bone in
3 tbsp flour
3 onions, cut sliced
4 carrots, peeled and cut into 1 inch chunks
4 potatoes, peeled and cut into 1 inch chunks
1 tbsp soybean oil
3 tbsp parsley
2 bay leaves
½ cup uncooked pearl barley
900 ml lamb stock
Small bunch fresh thyme
Directions:
Preheat oven to 320°F.
Trim fat off lamb chops, place in large bowl and lightly toss with flour.
Peel and cut onions, potatoes, and carrots.
In a large frying pan, heat soybean oil over medium-high heat. Add in lamb chops and brown the meat for about 6 minutes. Remove meat from heat and place in separate bowl.
Add onions, carrots, parsley and bay leaves to frying pan, and sauté for about 10 minutes.
Return lamb chops to pan, stir in pearl barley and pour in stock. Bring to a simmer.
Remove from heat and place in a oven safe dish glass baking dish or Dutch oven.
Place potatoes on top of stew, cover baking dish and place in oven.
Cook for 90 minutes or until meat and barley is tender.
Remove from oven, place on serving dish with fresh thyme. Serve and enjoy!
You can store this recipe in an airtight container in the freezer once completely cooled.