Wheat and soy springtime salad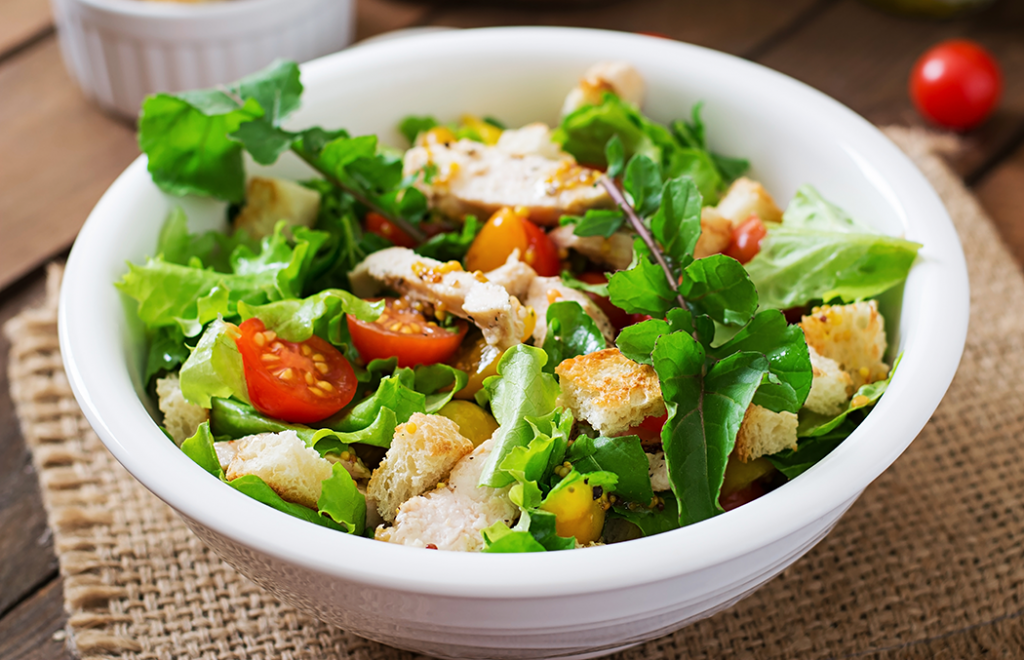 Welcome spring with this fresh-tasting springtime salad with chicken, arugula, tomatoes, topped with croutons made from wheat, and drizzled with a healthy Asian- inspired dressing, made using soy sauce!
Yield: 4 servings
Prep time: 15 minutes
Cook time: 5 minutes
Ingredients:
Salad
1 tbsp extra virgin olive oil
1 tsp grated lemon rind
1 tbsp fresh lemon juice
4 (4-oz. or 113-gram) chicken breast cutlets
½ tsp salt
¼ tsp pepper
2 cups halved cherry tomatoes
1 (5-oz. or 142-gram) package baby arugula
½ cup wheat croutons
Dressing
2 tsp Dijon mustard
¼ cup rice wine vinegar
1 tsp soy sauce
2 tbsp light sesame oil
1.5 tbsp honey
Salt and black pepper, to taste
2-3 tbsp sesame oil, or peanut oil
Directions:
In a shallow bowl, combine olive oil, rind, juice, and chicken cutlets; let stand 5 minutes.
Put all dressing ingredients, except sesame oil, in a blender or food processor and blend until smooth. With the machine running, slowly pour in the oil. Taste and adjust the seasonings according to taste. Set aside.
Heat a large nonstick skillet over medium-high heat. Coat pan with cooking spray. Sprinkle chicken evenly with salt and pepper. Add chicken to pan; cook 2 minutes on each side or until done. Remove from heat. Let stand for 2 minutes. Slice into 1/2-inch strips.
In a large bowl, combine tomatoes, arugula, chicken, and dressing, toss to combine. Top with wheat croutons. Serve and enjoy!
Salad recipe inspired by Laraine Perri and dressing recipe inspired by Food.