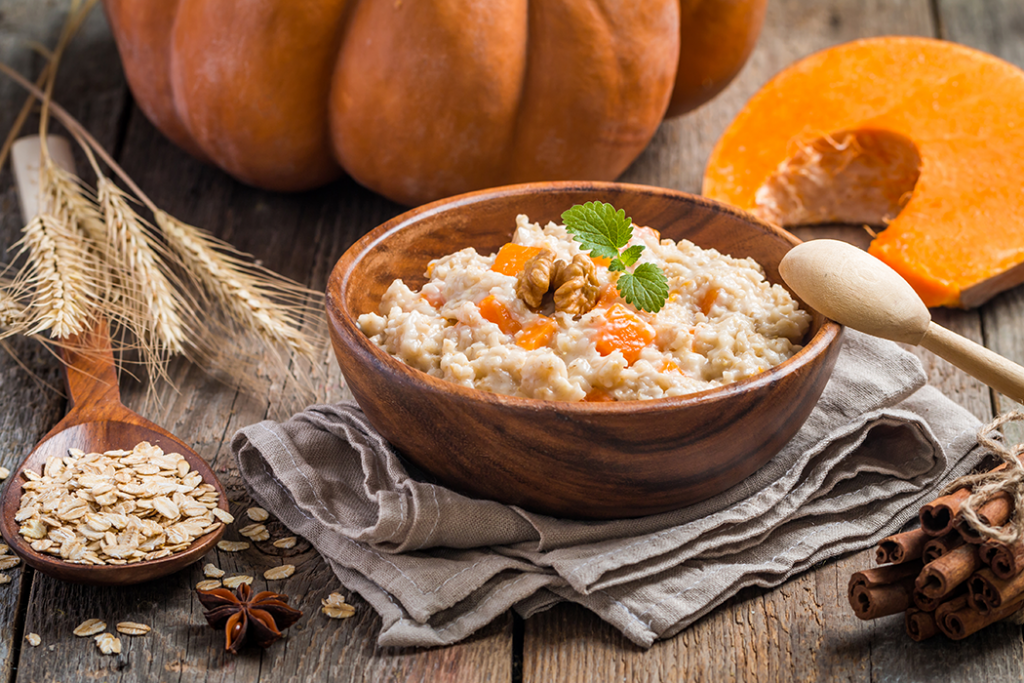 This pumpkin spice oatmeal is like a warm bowl of fall on a crisp morning. It is a delicious twist on traditional oatmeal with the warm spices we associate with fall. Scroll down to view the step by step video on creating your own pumpkin spice oatmeal.
Yield: 1 serving
Prep time: 5 minutes
Cook time: 4 minutes
Ingredients
½ cup rolled (old fashioned) oats
½ cup unsweetened soymilk (or milk of choice)
½ cup water
2 tbsp pumpkin puree
½ tsp pure vanilla extract
¼ tsp pumpkin pie spice
Toppings
1 tbsp 100% maple syrup
Optional: walnuts and cinnamon
Directions
In a microwave safe bowl, combine oats, milk, water, puree, vanilla, and spice. Then,stir until mixed.
Microwave on high for 4 minutes, stopping the microwave halfway through to stir. If too thick, add a splash of milk or if too runny, microwave in increments of 15 seconds until desired consistency is reached.
Remove from microwave, add maple syrup and other desired toppings, and enjoy!
#TrainWithGrainsTips: Wanting to save time making your pumpkin spice oatmeal? Simply, try making your oatmeal recipe the night before, and simply heat in the microwave to save you time in the mornings!