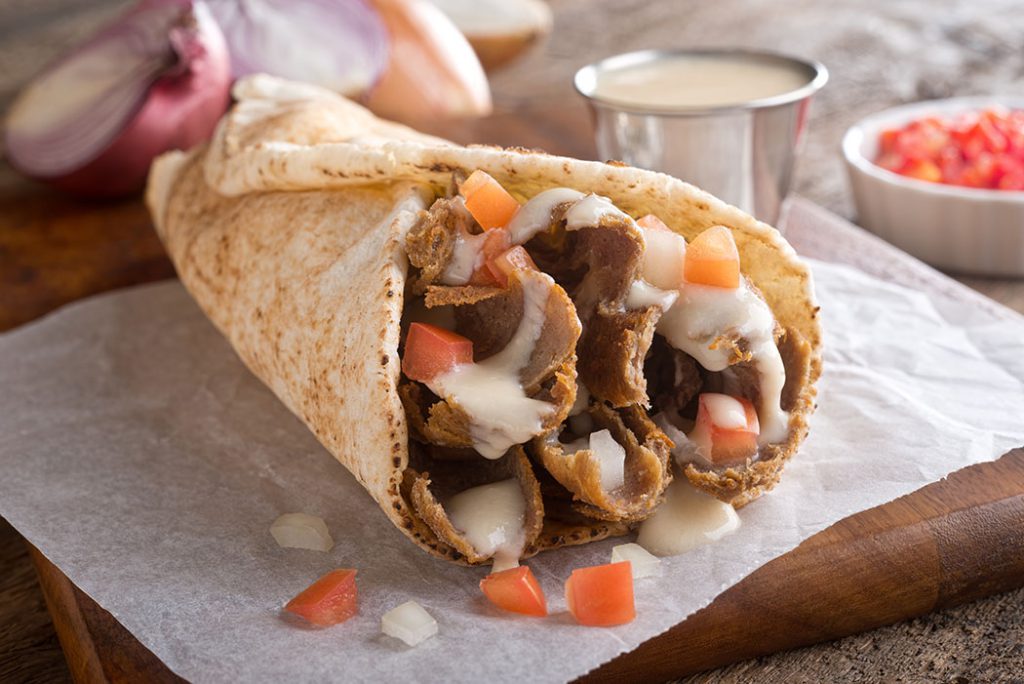 This easy, healthy homemade Tofu shawarma will be a new fan-favorite, for a good reason! Made with the goodness of Ontario grains, this recipe is a perfect springtime dinner idea that can be made in under 30 minutes. Serve it in pita pockets with tahini sauce, for a tasty and easy dinner! 
Yield: 4 servings
Prep time: 15 minutes
Cook time: 10 minutes
Ingredients
½ small red onion, thinly sliced 
3 tbsp seasoned rice vinegar
1 (14-oz.) block firm or extra-firm tofu, drained
3 tbsp olive oil
2 tsp ground coriander
½ tsp ground cinnamon 
1 tsp kosher salt
½ Greek yogurt 
1 garlic clove, finely grated
4 whole wheat pitas, warmed
2 mini-cucumbers, thinly sliced lengthwise
Mint leaves, for serving (optional)
Directions
Preheat oven to 425°F.
In a large bowl, add onion and vinegar, toss to coat; set aside.
Squeeze tofu over a medium bowl to expel as much water as possible. When no more liquid comes out, tear tofu in 1" pieces.
Arrange tofu in a single layer on a lined baking sheet. Toss with oil; add coriander, paprika, red pepper flaked, cinnamon and salt. Toss well to coat. Roast tofu for 20-25 minutes, turning once halfway through.
In a small bowl, stir together yogurt and garlic, season with salt.
Assemble pitas by dividing yogurt among pitas, followed by tofu, cucumbers, drained pickled onion and a handful of mint. Serve and enjoy!