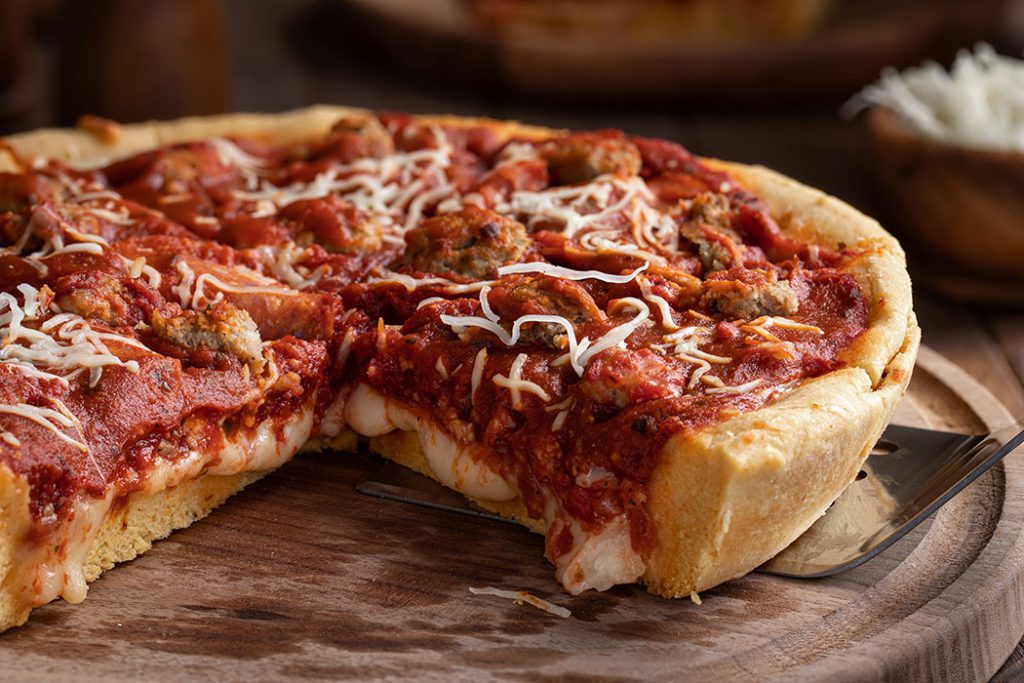 Make your very own deep-dish pizza from a variety of local Ontario ingredients! Create the dough and sauce at home using pantry ingredients for a delicious and local homemade meal!
Yield: 1 pizza
Prep time: 30 minutes
Cook time: 1 hour 15 minutes*
*allow for 2 – 3 hours between prep and cooking time for homemade dough to rise.
Ingredients
For the crust:
2 ¼ tsp active dry yeast 
¾ cup warm water (heated to 115°F) 
½ tbsp granulated sugar 
2 tbsp olive oil
1 cup all-purpose flour
1 cup whole wheat flour
½ cup cornmeal 
1 tsp salt
¼ cup unsalted butter, room temperature (divided into ⅛ cup) 
For the sauce:
1 tbsp unsalted butter
½ small onion, grated (about 1/6 cups) 
¼ tsp salt 
½ tsp dried oregano 
¼ tsp crushed red pepper flakes 
2 garlic cloves, minced
14-oz can crushed tomatoes
⅛ tsp granulated sugar 
Toppings:
2 cup shredded mozzarella cheese
¼ cup parmesan cheese 
¼ cup sausage, cooked and broken into chunks 
¼ cup pepperoni slices 
Directions
For the crust:
Proof yeast in a measuring cup with water and sugar. Let sit for 5-10 minutes. Add olive oil.
Using stand mixer with dough hook attachment, mix together salt, cornmeal and flours. Once combined, turn mixer speed to low and slowly add liquid ingredients. Mix until dough forms a ball that no longer stocks to the side of the bowl. If dough is too sticky, add additional flour 1 tbsp at a time.
Remove from bowl and form dough into ball shape. Transfer to lightly greased bowl. Cover and let rise in a warm location until dough has doubled in size, about 1-2 hours.
Turn out dough onto a lightly floured work surface, set aside bowl and cover for later use. Gently knead out the dough to remove any air bubbles and roll dough into a large 15×12 inch rectangle. Spread 1/8 of butter on top of dough. Roll dough lengthwise and then form into ball. Return newly formed dough ball to bowl and cover. Let cool in the fridge for 1 hour as you make the sauce.
For the sauce:
In a medium saucepan over medium heat, melt the butter. Add onion, salt, oregano and red pepper flakes and mix. Once the onion has browned, approximately 5 minutes, add garlic, tomatoes and sugar. Reduce heat to low and let simmer for 30 minutes. Continue to let simmer if you have more than 1 1/4 cups of sauce. Remove from heat and set aside.
Now time to assemble your deep-dish pizza!
Preheat oven to 425 ° F.
Remove dough from fridge and roll out on a lightly floured surface, working into a 12-inch circle. Place dough over a 9×2 inch deep dish cake pan. Press dough into cake pan using your fingers, ensuring that the dough is fitting tightly into pan. Trim excess dough from sides with a knife. Brush top edges of dough with olive oil.
Fill pizza with mozzarella cheese, then add your desired toppings. Pour sauce over toppings. Top with parmesan cheese.
Place cake pan on a baking sheet. Bake for 20-30 minutes until crust is golden brown. Remove from over and allow to cool on a metal rack for 10 minutes. Slice, serve, and enjoy!
#TrainWithGrainTip: have your family make this pizza by contributing their favourite Ontario ingredient! Change out your protein source to a family favourite and don't forget to stuff your deep-dish pizza with tasty Ontario vegetables like peppers, mushrooms, tomatoes, onions, broccoli or spinach!