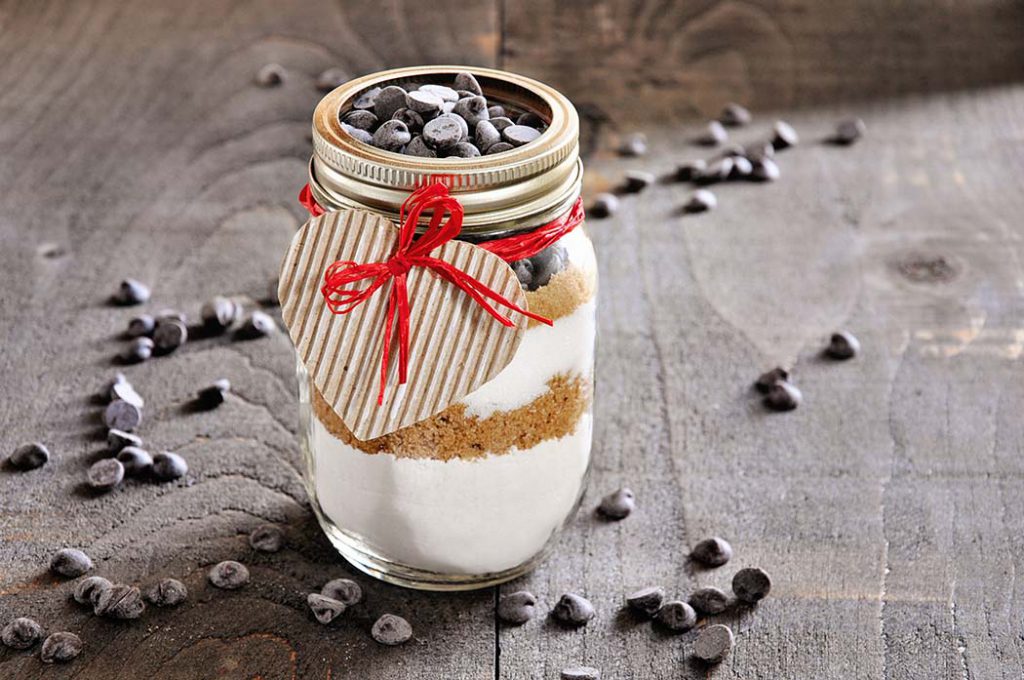 How can we gather with friends and family to celebrate a season of thanks, while social distancing? Send the gift of Thanksgiving Grains in a Jar, to celebrate together with a common meal.
Thanksgiving had been unofficially observed in Canada for over 100 years by the time it was named a statutory holiday in 1957: an official "Day of General Thanksgiving" for "the bountiful harvest with which Canada has been blessed." Since then, Thanksgiving has been celebrated across Canada on the second Monday in October with many families gathering together to celebrate with a bountiful and tasty meal.
Cornbread Muffins with Chives are hearty comfort food that is a perfect side dish instead of dinner rolls. The slight crunch of cornmeal enhances the savoury flavours of these muffins. Measure and add the dry ingredients into a large mason jar. Write the baking instructions and wet ingredients on a label and send it to your loved ones.
You can also add your favourite cookie mixes into a jar, and even a Toasted Barley and Rice side salad! Barley is a high fibre whole grain that has a rich, nutty flavour that goes very well with a hearty dinner. Add the dry ingredients to a large jar and combine the wet ingredients into a smaller mason jar- send both jars to your loved ones for a quick and easy meal that you can put together.
Thanksgiving may look a little different this year with many friends and families practicing social distancing, and those family meals, or "Friendsgiving's" may be a lot smaller. Don't forget to still spend the day together. Call your friends or start a family video chat, and together create the delectable dish you sent them. Spend thanksgiving enjoying the hearty flavors of Ontario's harvest together, but apart.
Give thanks with a grain jar
Thanksgiving is also a time of giving thanks especially to those that have an impact on our lives. Since the COVID-19 global pandemic changed many Ontarian's lives, we have been giving thanks to the many hardworking front-line workers keeping us safe, fed and healthy. With Thanksgiving, a time of celebration and giving thanks around the corner, let's put words into actions and give thanks to our front-line workers with giving them thanks with a grain jar.
Many family-favourite baking recipes can easily be gifted as a holiday gift. Adding the basic ingredients form your favourite recipe into a jar and sending that along with baking instructions is the easiest gift of thanks for someone in your life.
Send extra love and thanks by sending someone your favourite cookie recipe in a jar. Recipes like oatmeal chocolate chip, sugar cookies or even macadamia nut are super easy to add into your jar- combine the dry ingredients and send with baking instructions!