Toasted barley and wild rice salad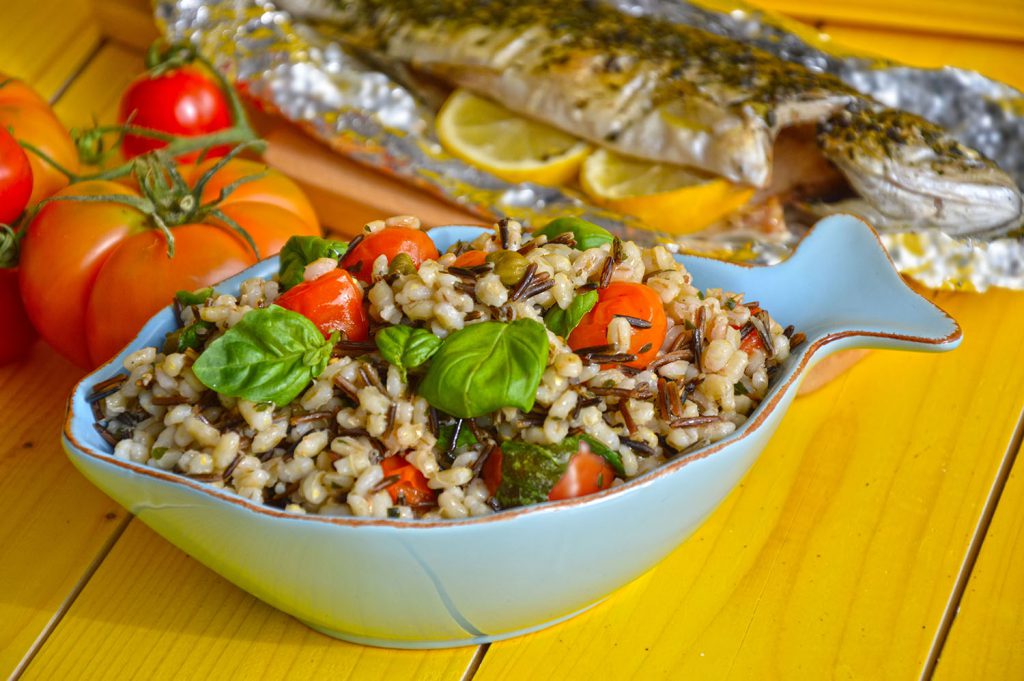 The slight chewiness of barley makes a wonderful texture for salad. A slightly nuttier flavour is apparent from toasting the barley and wild rice. A colourful and healthy grain salad to pack for lunch.
Yield: 6 servings
Prep time: 15 minutes
Cook time: 35 minutes
Ingredients
½ cup (125 mL) each pot barley and wild rice
½ cup (125 mL) roasted soybeans
1 cup (250 mL) sodium-reduced vegetable or chicken broth
1 cup (250 mL) water
1 orange or yellow bell pepper, chopped
1 zucchini, chopped
1 tomato, diced
½ cup (125 mL) corn kernels
2 tbsp (30 mL) cider or white wine vinegar
1 tbsp (15 mL) Dijon mustard
2 tsp (10 mL) vegetable oil
1 small clove garlic, rasped or pressed
Pinch fresh ground pepper
1 ½ cups (375 mL) chopped cooked corn fed beef
¼ cup (60 mL) each chopped fresh parsley and chives
Directions
In a saucepan, toast barley and wild rice over medium heat, stirring for 3 minutes. Add broth and water; bring to a boil. Reduce heat to a simmer, cover and cook for about 30 minutes or until barley and rice are tender but still chewy and firm. Remove from heat and let cool.
In a large bowl, combine cooled barley and rice mixture with bell pepper, zucchini, tomato and corn.
In a small bowl, whisk together vinegar, mustard, oil, garlic and pepper. Drizzle over top of barley mixture and stir to coat. Stir in beef, parsley and chives until well distributed. Sprinkle with soybeans before serving.