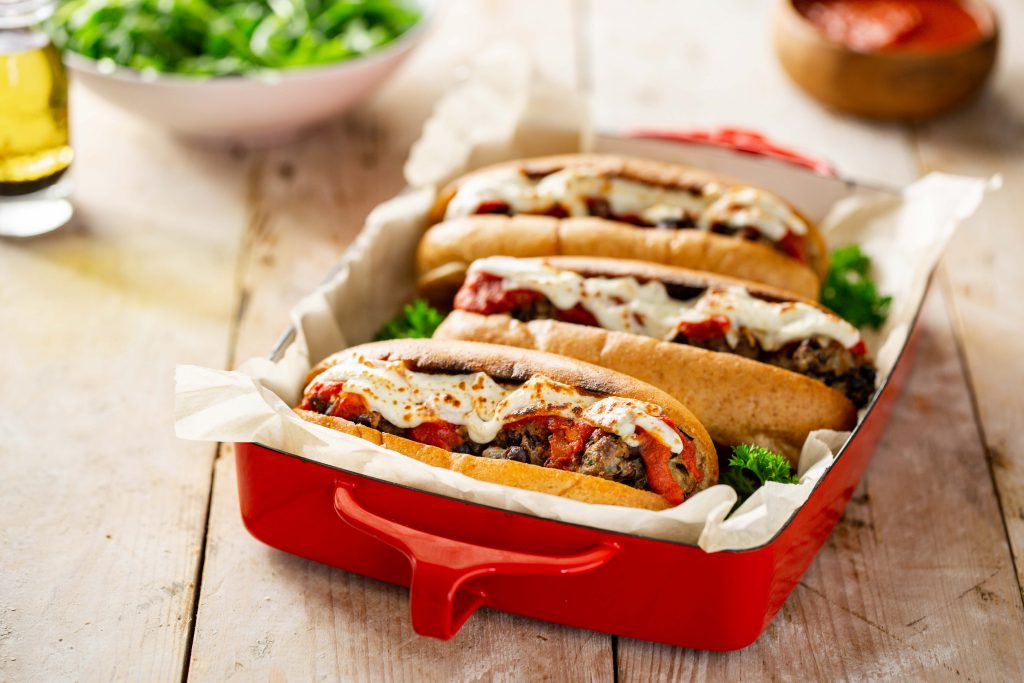 This traditional meatball sub has an extra high protein twist! Meatballs made from lean ground beef and black beans are stuffed into a whole wheat bun making this recipe meets all of the requirements for Health Canada's balanced plate. Serve fresh with a side salad for a complete meal.
This recipe perfectly showcases how multiple sources of protein can work together to increase nutrient absorption and can increase the number of health benefits associated with each ingredient not often present when eaten separately. Ontario Beef, Ontario Beans and Good in Every Grain have been working together in the past six weeks to showcase recipes that show the #PowerofProtein and how important getting enough protein is for our daily diets.
Yield: 6 subs
Prep time: 20 minutes
Cooking time: 40 minutes
Ingredients
1 tbsp (15ml) canola oil
1 cup (250ml) onion, finely chopped        
2 cloves garlic, minced
½ lb (226g) lean ground beef        
1 19oz can (540ml) black beans, drained, rinsed and finely chopped         
1 egg
½ cup (125 ml) whole wheat breadcrumbs          
½ cup (125 ml) Parmesan cheese, grated            
¼ cup (60 ml) fresh parsley, chopped  
1 tsp (5ml) dried oregano   
¼ tsp (1ml) each salt and fresh cracked pepper
6 6-inch (15cm) whole wheat sub buns
2 tbsp (30ml) butter, melted  
1 ½ cups (355ml) prepared marinara sauce
1 cup (250ml) mozzarella cheese, grated
Directions
Preheat oven to 375°F (190°C). Line a baking sheet with parchment paper.
In a large non-stick pan over medium-high heat, heat canola oil. Add onion; cook until translucent, about 5 minutes. Add garlic, cook 2 minutes, stirring frequently. Remove from heat, allow to cool 2-3 minutes.
In a large bowl add cooled onions, ground beef, black beans, egg, breadcrumbs, Parmesan cheese, parsley, dried oregano, salt and pepper; mix ingredients until well combined.
Using your hands, form into 1-inch (2.5 cm) balls; place on parchment-lined baking sheet. Bake for 20 minutes, or until internal temperature reaches 165ºF (74°C).
Meanwhile, slice sub rolls down the middle, but not all the way through. Brush buns with melted butter.
Spread 2 tbsp (30 mL) sauce on the inside of each bun. Add 4 meatballs to each bun. Evenly distribute remaining marinara sauce over top of meatballs. Top with grated cheese and broil on low for 3-5 minutes, until cheese is melted. Serve with additional sauce for dipping if desired.
Meatless Alternative: Replace ground beef with 227g (8 oz) of finely chopped mushrooms. Cook mushrooms with onion, until moisture has been released, about 8 minutes.
Serve with a fresh side salad and vinaigrette dressing.
#TrainWithGrainTips:
To lower sodium, use no salt added canned black beans and choose a low-sodium marinara sauce
To further lower fat content, use extra lean ground beef