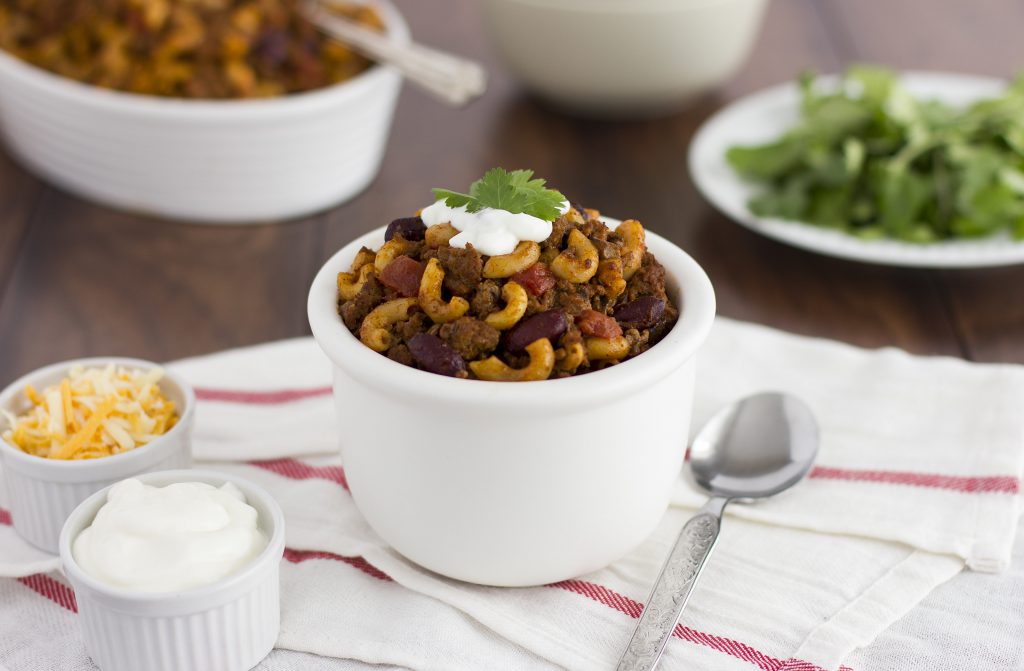 Blended chili macaroni is going to be a winner in your house because it's a one-pot meal for less mess and dishes, and it is so tasty! Includes ingredients like beans, grains and beef, all of which are protein powerhouses, especially when paired together.
Welcome back to the #PowerofProtein where we showcase recipes with Ontario Beef and Ontario Bean Growers that show the food synergy between multiple protein sources can provide tasty and nutrient-packed meals.
Ingredients
½ lb mushrooms, finely chopped
1 lb lean ground beef
1 package chili seasoning
1 can beef broth
1 can kidney beans, rinsed
1 cup medium salsa
Garnishes: 
Shredded cheese, sour cream, cilantro
Directions
Place the mushrooms in a food processor fitted with a metal blade. Pulse until finely chopped.
In a large saucepan, brown meat and mushrooms with chili seasoning.
Add broth, kidney beans, tomato paste, salsa, and macaroni to saucepan; mix well.
Bring mixture to boil and cover. Continue to simmer on low for 15 minutes, stirring occasionally.
Serve topped with cheese, sour cream and cilantro.