Moroccan meatballs with whole wheat flatbread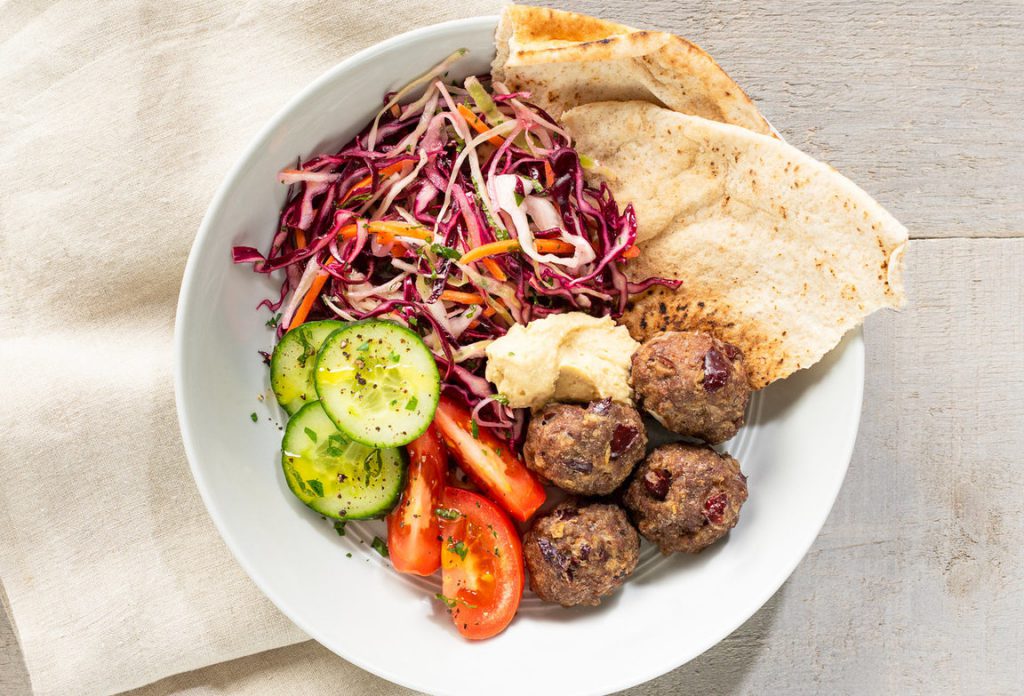 Looking to add some excitement to this week's meal prep? Try these Moroccan meatballs made with ground beef and kidney beans that when paired with whole wheat flatbread provide a balanced, high-protein and high-fibre meal. The beef, kidney beans and grains featured work together to deliver a high protein and nutrient-rich meal the whole family will enjoy. Serve with a side slaw to create the perfect healthy balanced meal.
Follow along as we feature more #PowerofProtein rich meals with Ontario Beef and Ontario Bean Growers!
Yield: 6 servings
Prep time: 25 minutes
Cooking time: 20 minutes
Ingredients
Slaw:
3 tbsp canola oil
2 tbsp EACH lemon juice and red wine vinegar
1 clove garlic, minced
1 tsp EACH Dijon mustard and liquid honey
½ tsp EACH ground cumin, salt and pepper
2 cups each shredded purple and green cabbage
1 cup carrot matchsticks
½ cup shaved red onion
¼ cup EACH finely chopped parsley and fresh mint
Meatballs:
1 cup no salt added kidney beans, drained and rinsed
2 eggs
½ onion, grated
4 cloves garlic, minced
2 tsp each ground cumin and coriander
½ tsp ground cinnamon
1 lb (500 g) extra lean ground beef
¼ cup dried breadcrumbs
1 tsp each salt and pepper
Whole Wheat Flatbread:
2¼ teaspoons of dry active yeast
1 cup whole wheat pastry flour
1 cup all–purpose flour
½ teaspoon kosher salt
1 teaspoon sugar
1 tablespoon vegetable oil
3/4 cups of warm water
Directions
Slaw: In a large bowl, whisk oil with lemon juice, vinegar, garlic, mustard, honey, cumin, salt and pepper. Add cabbage, carrot and onion; toss to coat. Let stand at room temperature for 30 minutes. Stir in parsley and mint.
Meatballs: Preheat oven to 400°F (200°C). In a large bowl, mash kidney beans with a potato masher until just thoroughly mashed. Add eggs, onion, garlic, cumin, coriander and cinnamon; stir to combine. Add beef, breadcrumbs, salt and pepper. Gently mix well. Form into 24 meatballs.
Arrange meatballs on a greased foil-lined baking sheet. Bake for 20 minutes or until golden brown and an instant-read thermometer registers 160°F (71°C) when inserted into the center of the meatball.
Whole Wheat Flatbread: Combine the warm water and sugar in a bowl and stir to dissolve sugar. Sprinkle the yeast over the top and let that become foamy (approximately 5-6 minutes).
While that is foaming, combine flours and salt in a large bowl. Mix well! Pour foamy, yeast water mixture into the flour mixture, and stir until dough ball forms. Knead the dough for 3-4 minutes or until smooth and stiff. Add flour to prevent sticking. Place dough in a lightly oiled bowl, cover with a clean kitchen cloth and allow to rise (1-1.5 hours).
Once risen, divide the dough into small balls and on a floured surface, roll each out until flat or 1/4 inch thick – you don't want them super think or they won't cook properly!
Cook in a hot skillet with a little oil for 3-4 minutes on each side
Serve meatballs with slaw and flatbread on the side.
#TrainWithGrainTips:
Use whole-wheat flour instead of all-purpose flour if you're looking for extra fibre and wheat protein!
Serve with tomato and cucumber slices for a bright and fresh complement to the meatballs. Or, serve with a dollop of assorted dips such as hummus, baba ghanoush or tzatziki.
Replace cabbage and shredded carrot with a bagged coleslaw blend. Substitute kidney beans with black beans, navy beans or chickpeas.
Trying to sneak the beans in? Use white beans and mash until very smooth – even the pickiest of eaters will never notice!
Recipe and image courtesy of Canadian Beef – www.canadabeef.ca
Per serving (4 meatballs): 457 calories, fat 20 g (5.7 g of which is saturated), sodium 863 mg, carbohydrate 39.5 g, fibre 8.2 g, sugars 6.3 g, protein 30.4 g. %DV: zinc 66%, iron 36%, vitamin B12 110 %