Combine to Kitchen: Oatmeal Bars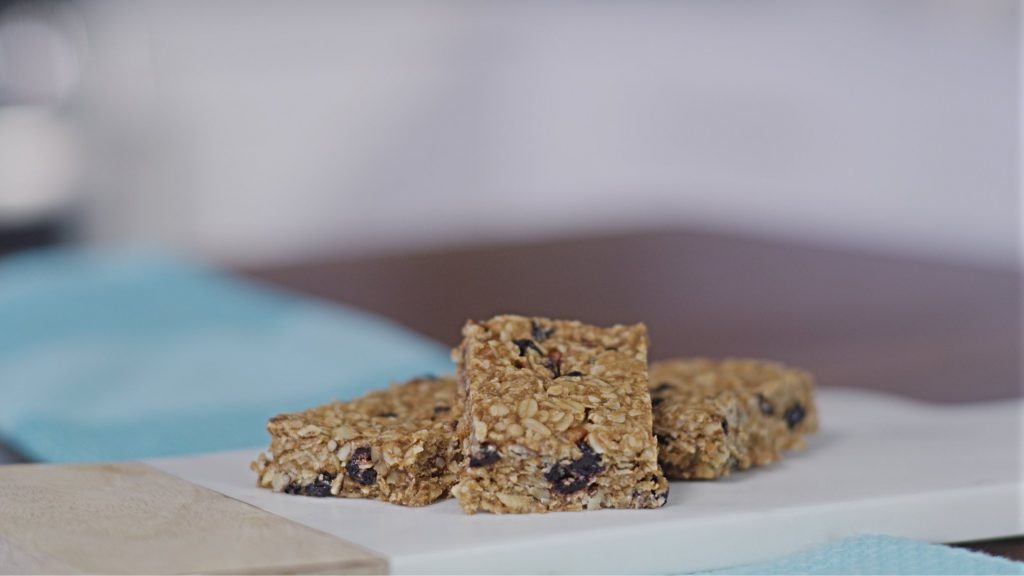 Oats are a great whole grain that have been linked to many health benefits including reducing your risk of heart disease! These Oatmeal Bars are also a great healthy afternoon or after school snack or lunch item? Try them today!
Yield: 10-12 servings
Prep time: 5 minutes
Cook time: 20 minutes
Ingredients
½ cup large flake rolled oats
1 ¼ cup quick-cooking oats
¼ cup wheat bran
1 tsp cinnamon
½ cup soy butter OR peanut butter
¼ cup of liquid honey
¼ cup canola oil
1 tsp vanilla
1 egg slightly beaten
½ cup dried blueberries
¼ cup chopped pecans
Directions
Prepare the pan: grease a 9" x 9" square baking pan OR line a 9" x 9" square baking pan with parchment paper and set aside.
Preheat the oven to 350o F.
In a large bowl, combine the soy butter/peanut butter, honey, oil, vanilla and egg. Stir until well blended.
To the peanut butter mixture add the large flake rolled oats, quick-cooking oats, wheat bran and cinnamon. Stir until well combined. Stir in the dried blueberries and chopped pecans.
Press into the prepared pan and bake at 350o F for 20 minutes.
Allow squares to cool in the pan on a cooling rack.
Once cooled, cut into squares or bars and enjoy!
Store the oat bars in the refrigerator.
#TrainWithGrainsTIp: Customize these bars. Swap out the dried blueberries and chopped pecans for dried cranberries, raisins, chopped almonds, chopped peanuts, sunflower seeds, pumpkin seeds, shredded coconut or whatever your family enjoys! Try almond butter or another nut butter in place of the peanut butter or soy butter.
Watch Ontario farmer and registered dietitian Lisa Mardlin Vandewalle make these simple oatmeal bars !
Nutrition facts per 1/16th of the recipe: 179 calories, 4.5g protein, 19g carbohydrate, 2.7g fibre, 10g total fat, 6mg sodium
*nutrition analysis calculated using Canadian Nutrient File peanut butter natural, food code 6289