Whole wheat cinnamon rolls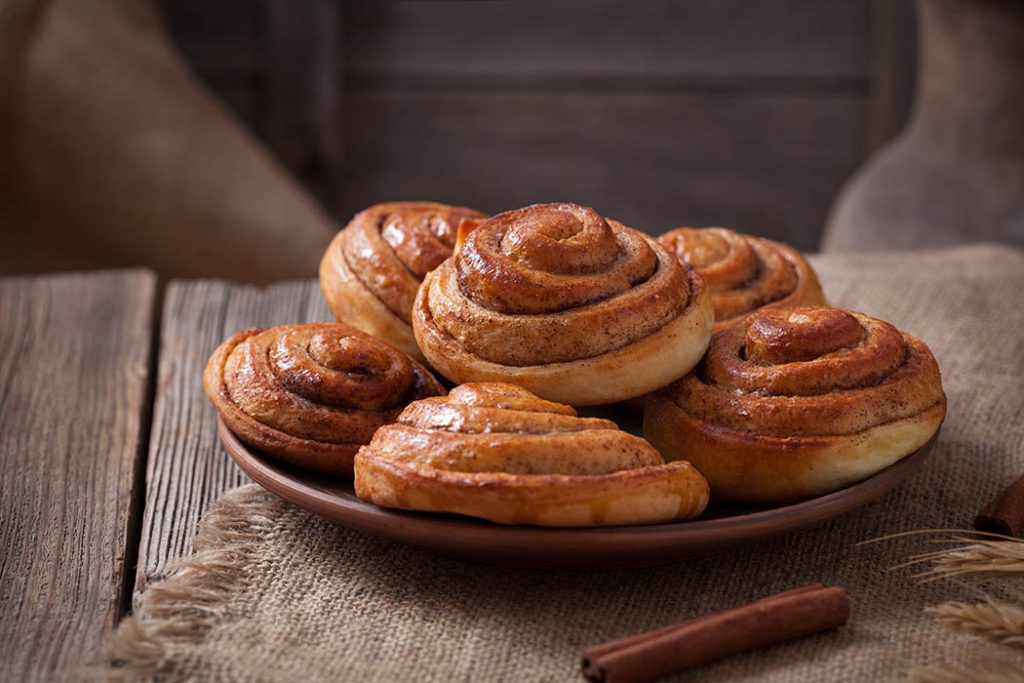 Try this sweet treat of whole wheat cinnamon rolls! These rolls are sweet but are homemade from whole wheat flour for an extra fiber and protein boost thanks to whole grain wheat flour.
Yield: 7 servings
Prep time: 1 hour and 25 minutes
Cook time: 35 minutes
Ingredients
3 ½ cups whole wheat flour
2 tbsp brown sugar
1 tsp salt
2 ¼ tsp instant yeast
1 large egg
1 cup soy milk
⅓ cup water
1 tbsp unsalted butter
For the filling:
¼ cup brown sugar
1 ½ tbsp ground cinnamon
2 tbsp unsalted butter
Directions
Combine flour, sugar, yeast, and salt in a large bowl. Use a stand mixer if you have one.
In a small, microwave-safe bowl, combine and warm soy milk, water, and unsalted butter.
Slowly combine the wet and dry ingredients and add the egg. Knead the dough for 5 minutes longer.
Let dough rise in a covered bowl for 45 minutes.
Prepare the filling: combine sugar and cinnamon in a small bowl, and warm-up remaining butter.
Grease a 9″ pie dish and set aside.
Roll out the dough to roughly 15″ by 12″, cover it with butter and sprinkle the cinnamon mixture on top.
Form a long roll and cut it into 7 slices. Arrange your 7 rolls in the pie dish.
Proof the rolls for 30 more minutes and pre-heat your oven to 350 degrees.
Cook rolls uncovered for 25 minutes; cover them loosely with aluminum foil and cook for 5-10 minutes more.
You can enjoy them as-is, or use frosting or icing of your choice!