Slow braised Canadian corn fed beef with creamy polenta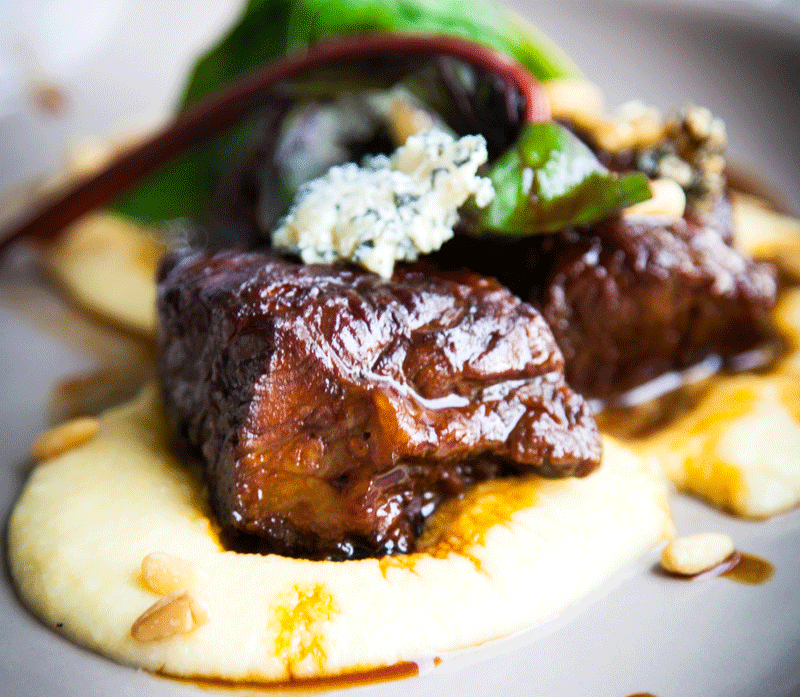 Ingredients:
Beef short ribs – 2kg
Large onions – 2 chopped
Celery stalks – 4 chopped
Carrots – 2 chopped
Shallots – 3 halved
Double smoked bacon – 100g (approx. 5 slices)
Garlic cloves – 10 split
Red wine – 1L (4 ¼ cups)
Beef stock – 3L (13 cups)
Chicken stock – 2L (8 ½ cups)
Thyme – 6 sprigs
Bay leaves – 2
Rosemary – 1 sprig
Black peppercorns – 10 coarsely ground
Vegetable oil – 3 tbsp
Directions:
In a large heavy bottom pot add oil and lightly sear the short ribs. Once nicely browned, remove and place on a plate
Decrease the heat by half and begin sautéing the bacon, followed by the onions, celery, carrots and shallots. If the pot is to dry, add a Tbsp of oil at a time until there is enough to coat the vegetables. Sauté for 5 minutes.
Return the short ribs to the pot. Deglaze with wine and reduce by 2/3
Once the wine has reduced add the herbs and spices. At this time add both the beef and chicken stock.
Bring to the boil, skim and reduce heat to a light simmer. Cook beef until it is extremely tender.You should be able to pull it apart with you a fork. Remove and reserve.
Strain the braising liquid from to remove impurities; use a fine chinois or cheese cloth if possible. Return liquid to the stove and reduce by 1/2.
When the liquid has a rich flavor return the ribs to the liquid and cook for 10 minutes over low heat.
When ready to eat pile the ribs over some gluten free polenta and enjoy!
GLUTEN FREE CREAMY POLENTA
Ingredients:
Ground polenta – 400g
Vegetable stock – 3L (13 cups)
10% Cream- 500ml (2 cups)
Unsalted butter – 100g (1/2 cup)
Shallots – 3 minced
Double smoked bacon – 100g minced (about 5 slices)
Garlic cloves – 2 minced
Bay leaf – 1
Olive oil – 2 tbsp
Rosemary – 1 sprig minced
Kosher salt – to taste
Cracked pepper – to taste
Directions:
In a heavy bottom pot, sweat off 3 minced shallots, garlic and minced bacon in 2tbsp of olive oil
Deglaze with 100ml white wine, reduce by 2/3rd
Add the vegetable stock and bring to a simmer. Once simmering , whisk in the ground polenta and reduce the heat to a light simmer
Add the bay leaf and minced rosemary and simmer
If the polenta begins to get too stiff, add 100ml of water or stock at a time until the desired consistency is achieved keep in mind, you will be adding some cream to finish as well
Once the polenta has had a chance to simmer (about 20 mins) finish with light cream, salt and freshly cracked pepper and it's ready to go!