Creamy grain corn polenta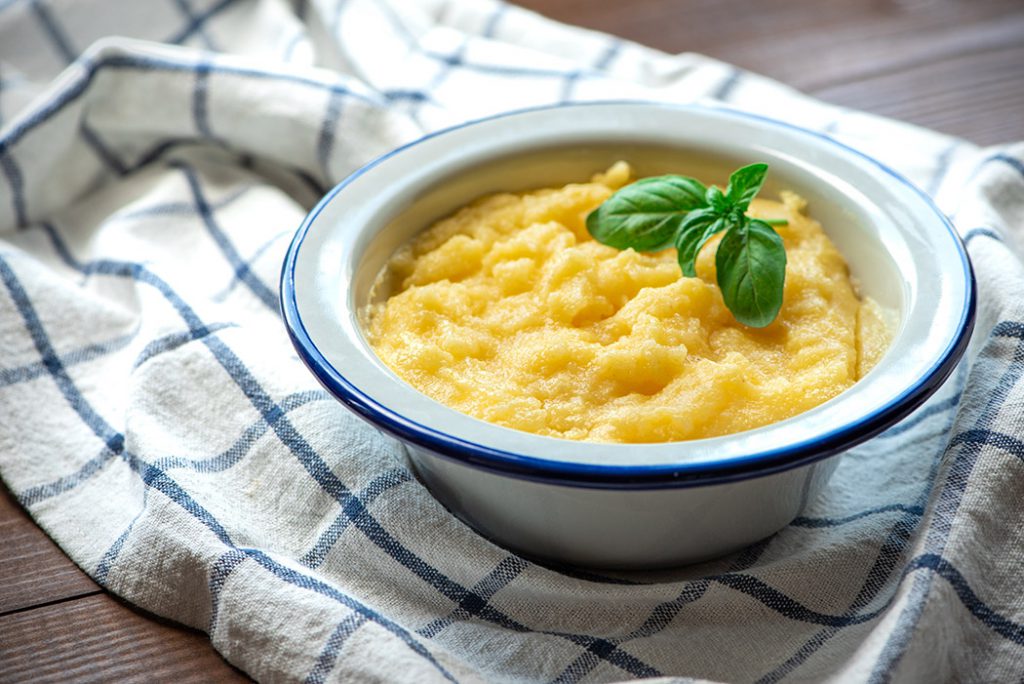 Polenta is an Italian dish found in Northern Italy and is a grain textured porridge type dish made from cornmeal, chestnuts or chickpeas. Polenta is slow-cooked in liquid until the grains swell and the starches are released. At this point, it has a thick, creamy consistency and is ready to be eaten. Today, polenta is a perfect base dish for hearty slow-cooked beef ribs or sautéed vegetables. Try it using Ontario coarsely ground cornmeal or ground polenta (corn grinds).

Ingredients:
400 grams ground polenta
3 litres (13 cups) of vegetable stock
500 ml (2 cups) 10% cream
100 grams (½ cup) unsalted butter
100 ml white wine
3 minced shallots
2 minced garlic gloves
100 grams of minced double-smoked bacon (about 5 strips)
1 bay leaf
1 sprig minced of rosemary
2 tbsp olive oil
Salt and cracked pepper to taste.
Directions:
In a heavy bottom pot, cook on medium 3 minced shallots, garlic and minced bacon in 2tbsp of olive oil stirring frequently.
Stir in 100ml white wine, reduce the liquid in pot by 2/3rd.
Add the vegetable stock and bring to a simmer. Once simmering, whisk in the ground polenta and reduce the heat to a light simmer.
Add the bay leaf and minced rosemary and simmer.
If the polenta begins to get too stiff, add 100ml of water or stock at a time until the desired consistency is achieved- keep in mind, you will be adding some cream to finish as well
Once the polenta has had a chance to simmer (about 20 mins) finish with light cream, salt and cracked pepper and it's ready to go!