Almond apricot barley bars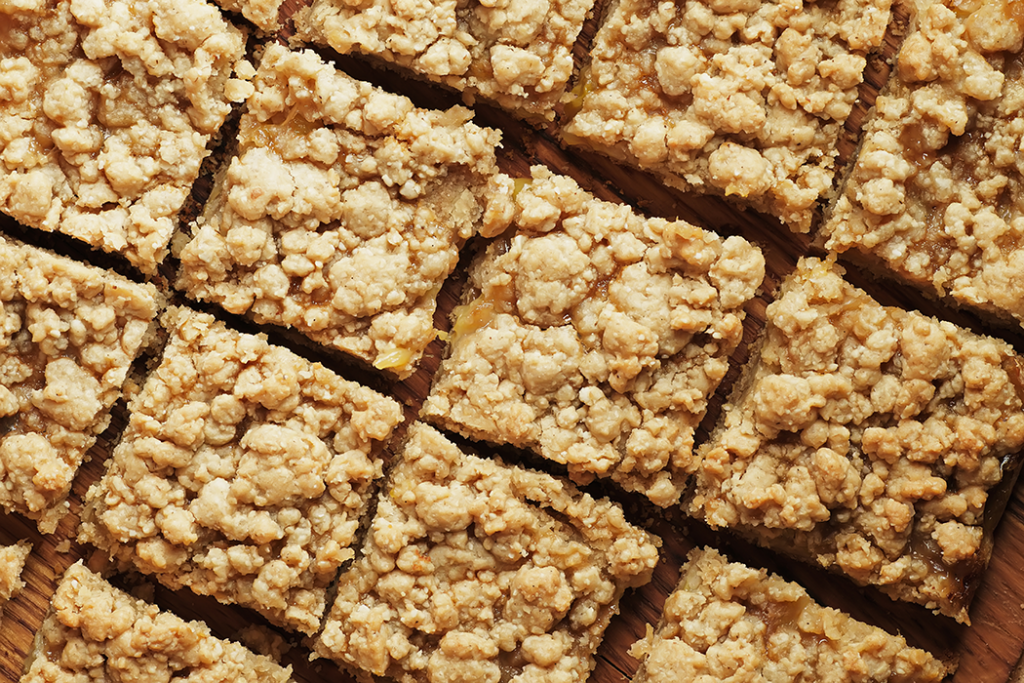 Try something new with your homemade granola and oat bars by replacing half of the oats with barley! We've done just that in this barley bar recipe. By adding barley to the mix, you'll get an extra punch of fibre compared to using only oats. This way, you'll get the best of both worlds by using two whole grains!
This recipe is incredibly versatile – feel free to change the flavours to your liking. Some other great flavour variations could be apple cinnamon, orange cranberry, chocolate peanut butter, or cinnamon raisin.
Yield: 12 servings
Prep time: 10 minutes
Cook time: 30 minutes
Ingredients:
2 eggs
½ cup vegetable, olive oil, or canola oil
¼ cup milk of choice
¼ cup honey
¼ tsp almond extract (optional – for stronger almond flavour)
1 cup oats (old-fashioned)
1 tsp salt
½ cup slivered almonds
1 cup flour
1 cup cooked barley
Yogurt layer:
6 oz Greek vanilla yogurt
½ cup apricot jam
2 tbsp flour
Directions:
Preheat oven to 350 degrees and grease an 8×8 baking dish.
In a large bowl, combine eggs, oil, milk, honey, and almond extract (if using). Whisk well.
In a separate bowl, mix oats, salt, almonds, and flour, then add to the large bowl with the wet ingredients.
Add barley and lightly mix, until just combined.
In a small bowl, prepare yogurt layer by stirring together yogurt, jam, and flour.
Reserve 1/3 cup of batter, and pour the rest into the 8×8 baking dish, smoothing it evenly.
Spoon and smoothen yogurt mixture on top of the batter, then drop small spoonfuls of reserved batter on top. Gently smoothen batter across top to spread out as much as possible.
Bake for 30 minutes, then remove from oven and slice while still warm.
Store in the refrigerator for 3 days or freeze.
Recipe inspired by The Incredible Bulks cranberry orange barley bars.