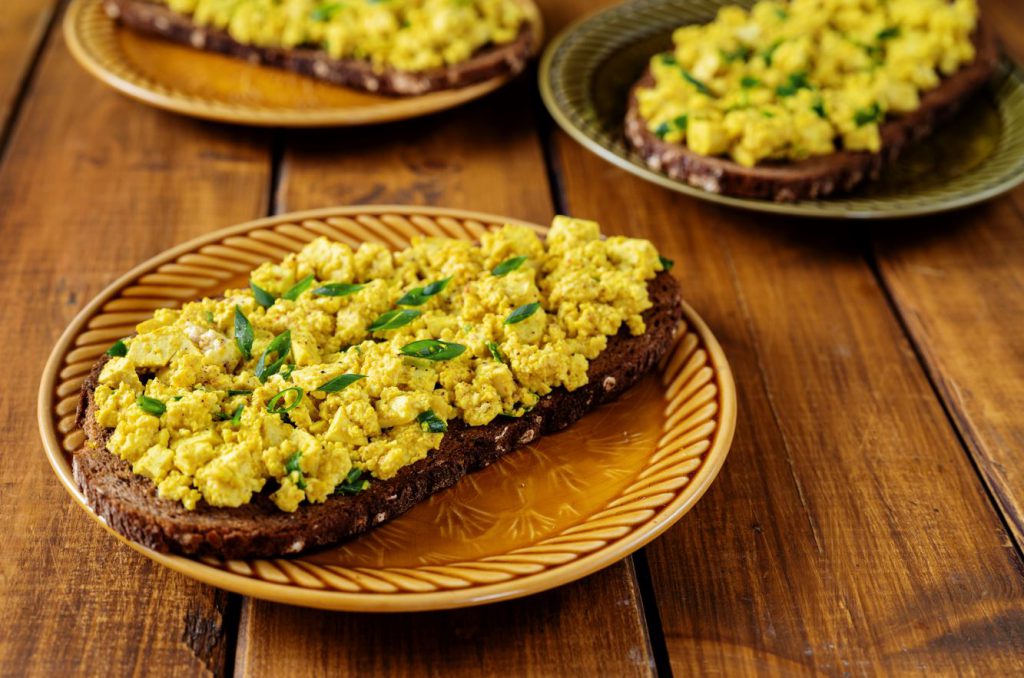 Keep your mind alert and your heart healthy with this delicious recipe for Tofu scramble that is a great alternative to scrambled eggs! This month, we have been showcasing heart and mind healthy recipes like Whole wheat fish tacos, and Blueberry baked oatmeal to keep your hearts healthy, and your minds alert.
Tofu is a great protein source made from soybeans. According to Harvard Health Publishing "a study published in March 2020 in the journal Circulation found that people who ate at least one weekly serving of tofu or another food containing isoflavones had an 18% lower risk of developing heart disease compared with those who ate these foods less than once a month."
Additionally, according to American Heart Association "Foods like tofu that are rich in isoflavones – an estrogen-like substance made by soy plants – could lower risk of heart disease, particularly in younger and postmenopausal women." Tofu is also a great source of protein and alternative to animal proteins; eating enough protein is essential and eating the right sources of protein can help to prevent heart disease.
Science has proven that turmeric, a yellow spice common in Indian cuisine has many health benefits, the majority that stem from turmeric's main active ingredient, curcumin. Curcumin has strong anti-inflammatory and antioxidant properties, which, in part, may contribute to curcumin's potential to prevent such conditions as cancer, Alzheimer disease, heart disease, arthritis and more. Curcumin can help to boost BDNF, a brain hormone that increases the growth of new neurons and can even help to prevent degenerative processes in the brain. It may also help to improve memory and there is some evidence that curcumin can boost serotonin (mood stabilizer) and dopamine (the happy hormone).
Try our great flavoured, and easy to make Tofu scramble today!
Yield: 4- 6 servings
Prep time: 10 minutes
Cook time: 7 minutes
Ingredients
12 oz extra firm tofu
2 tbsp nutritional yeast
1 tsp turmeric
1 tsp freshly minced garlic
2 tbsp olive oil
salt and pepper to taste
Sautéed Vegetables
½ zucchini, thinly sliced
1 red pepper, chopped
Directions
For sautéed vegetables (optional): In a pan over medium heat cook and stir zucchini and roasted red pepper for 5 minutes. Set aside.
Tofu scramble: In food processor, puree the tofu until smooth.
Line colander or sieve with cheesecloth.
Using the lined colander or sieve, pour tofu out of food processor and drain as much liquid as possible.
Return tofu to food processor; add nutritional yeast, turmeric, and minced garlic and mix.
Heat oil in a pan over medium-high.
Add tofu mixture and sautéed vegetables to pan. Stir and cook until the mixture begins to crumble and look similar to scrambled eggs.
Remove from pan and serve.
Recipe from Food Network Canada.