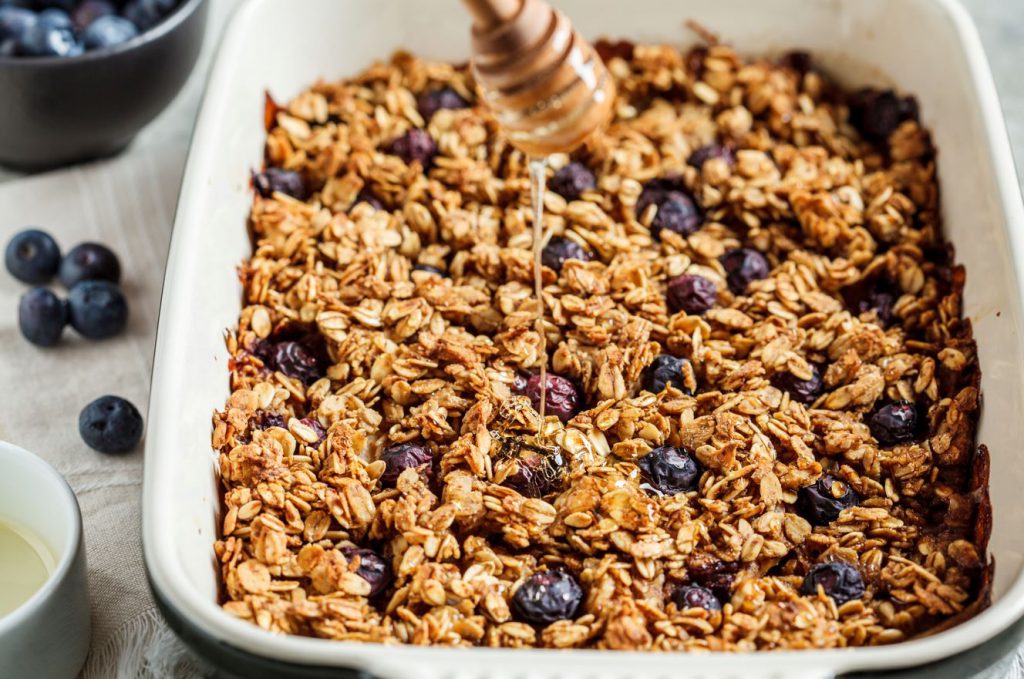 Keep your mind alert and your heart healthy with this delicious recipe for Blueberry baked oatmeal that is a great make-ahead breakfast for your family, or to feed a crowd!
February is heart month, a month to celebrate keeping our hearts healthy. But, with February also being the middle of winter time, it is also a time where many of us experience sluggishness with our minds. We wanted to share a great heart healthy recipe, that can also help with your brain functions and help move past any "sluggishness" you may experience this winter.
Why Blueberry baked oatmeal?
In a study published by Neural Regeneration Research, it was demonstrated that consuming blueberries can help improve memory. It has also been found that the antioxidants found in blueberries can impact the areas in your brain that are essential for intelligence. Blueberries are also high in nutrients such as fibre, vitamin C, vitamin K and manganese.
Heart disease is a serious health risk and one major risk factor is high blood cholesterol. But did you know that oats may lower the risk of heart disease by reducing cholesterol and protecting cholesterol from oxidation, which can raise the risk of heart attacks or strokes. Click here to learn more about the heart health benefits of oats.
Yield: 8 servings
Prep time: 10 minutes
Cook time: 35 minutes
Ingredients
2 cups old-fashioned oats
1/4 cup all-purpose flour
1 tsp baking powder
1/4 tsp baking soda
1/2 tsp sea salt
2 tsp ground cinnamon
1/4 cup granulated sugar
2 tsp butter, melted
2 cups soy milk (or regular)
1/4 cup Vanilla Greek yogurt
2 eggs
2 tsp pure vanilla extract
2 cups blueberries (fresh or frozen)
1 tbsp honey, for serving
Directions
Preheat oven to 350°F. Grease a 9×13" glass baking dish and set aside.
In a small bowl, combine oats, flour, baking powder, baking soda, salt, sugar and cinnamon. Set aside.
In a separate, small microwave safe bowl, melt butter.
In a large bowl, whisk together Greek yogurt, eggs, and vanilla and whisk until combined.
Add melted butter and milk and whisk until combined.
Add dry ingredients to wet ingredients and mix well.
Gently fold the blueberries into the mixture.
Spread evenly in a 9×13" pan.
Bake at 350 degrees F for 30-40 minutes (shorter if using fresh berries, longer if using frozen). The oatmeal should be browned on the top and the top should spring back when you gently touch it with your finger. Top with honey.
Let cool for 15 minutes and serve warm. You can also refrigerate after baking and serve cold!
Recipe inspired by Joy Food Sunshine.