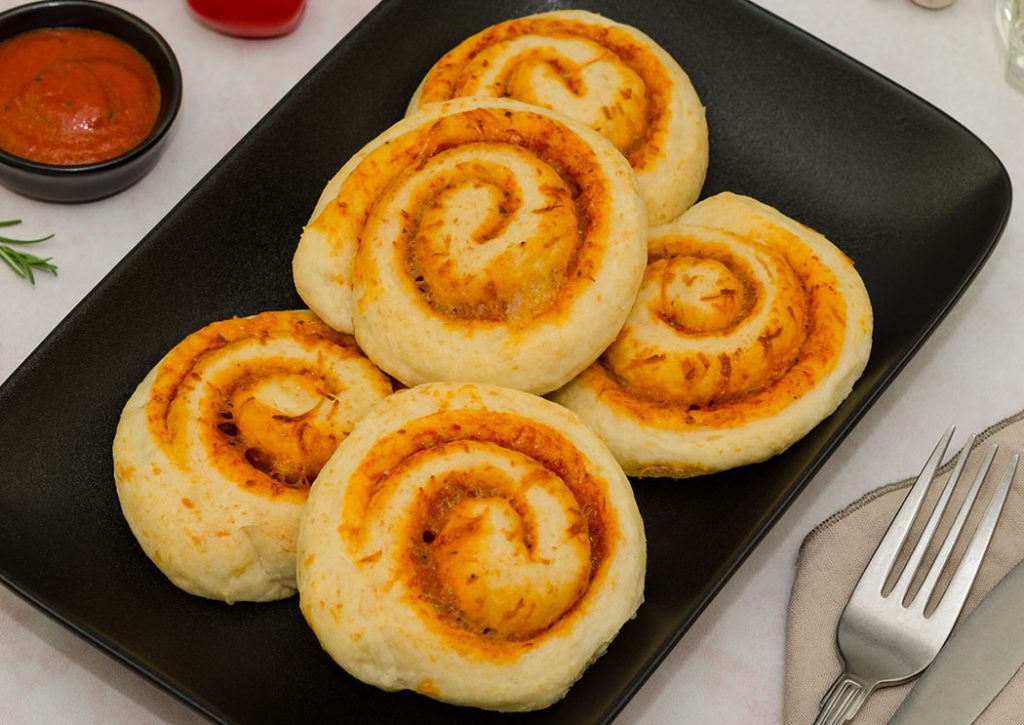 Pizza is also a great choice for dinner and can be made with whole grains. These Pizza pinwheels take our homemade whole wheat pizza dough for a spin for a mess free and fun way to eat your favourite pizza!
Yield: 20 pinwheels
Prep time: 10 minutes
Cook time: 15 minutes
Ingredients:
Whole wheat pizza dough
½ cup of pizza sauce
2 ½ cups mozzarella cheese, shredded
2 tbsp parmesan cheese, grated
2 cups of pizza topping (pepperoni, ham, olives, pineapple, peppers, etc.)
Directions:
Preheat oven to 375°F.
Spray countertop with non-stick cooking spray. Roll out pizza dough on countertop into a ¼ inch thick rectangle.
Spread pizza sauce over dough, ensuring to spread all the way to the edges.
Sprinkle 1 cup of mozzarella, parmesan, and toppings evenly across dough. Top with 1 cup of mozzarella.
Roll dough into a tight log shape, begin with long side of rectangle. Ensure to pinch seams closed at ends.
Cut log every inch to make pinwheel. Lay each pinwheel on a greased baking sheet.
Bake for 15 minutes or until side crusts are golden brown.
Remove from oven and top with remining ½ cup of mozzarella. Return to oven for 1-2 minutes.
Serve hot and enjoy!
#TrainWithGrainsTip: Make these up ahead of time for school or work lunches, and store in the refrigerator in an airtight container.