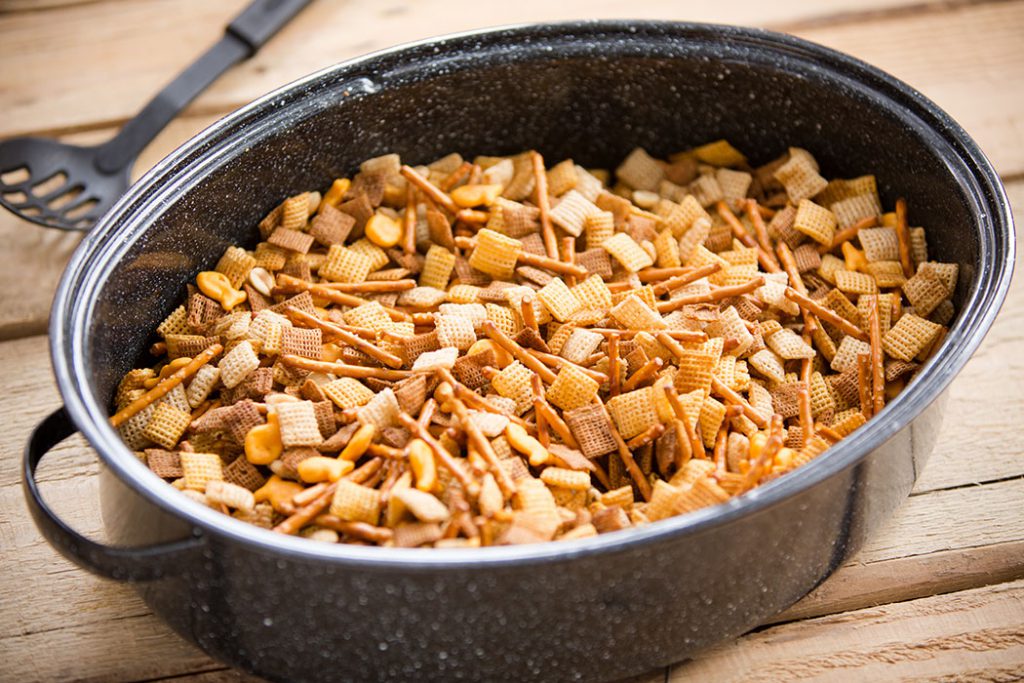 Chex mix uses whatever mix of ingredients you have on hand and makes a quick DIY snack, that is perfect for nibbling on. This recipe uses the goodness of whole grains found in corn and wheat Chex cereal to make a tasty snack for whenever you're feeling peckish!
Yield: 15 cups
Prep time: 10 minutes
Cook time: 5 minutes
Ingredients:
8 tbsp (1 stick) unsalted butter
9 cups Chex cereal (corn, wheat or a combination)
3 cups pretzel sticks (or mini pretzels)
2 cups Goldfish crackers
1 cup whole roasted soy nuts
2 tbsp Worcestershire sauce
2 tsp seasoned salt
1 ½ tsp garlic powder
1 tsp onion powder
Directions:
Place unsalted butter in a medium microwave-safe bowl. Microwave in intervals, about 10 seconds, stirring between intervals, until fully melted, about 1 minute.
Add the Chex, pretzels, Cheerios, and peanuts together in a large microwave-safe mixing bowl, and gently stir a bit to combine.
In medium bowl, whisk together the melted butter, Worcestershire sauce, seasoned salt garlic powder, and onion powder together until combined.
Drizzle half of the sauce evenly over the Chex mix. Then give the mix a gentle stir to combine.
Repeat by drizzling the remaining sauce over the Chex mix, and stir again until combined.
Microwave uncovered on high 5 to 6 minutes, thoroughly stirring every 2 minutes.
Spread the mix out on parchment paper or paper towels until it has cooled to room temperature.
Serve and enjoy!