Gingerbread soymilk eggnog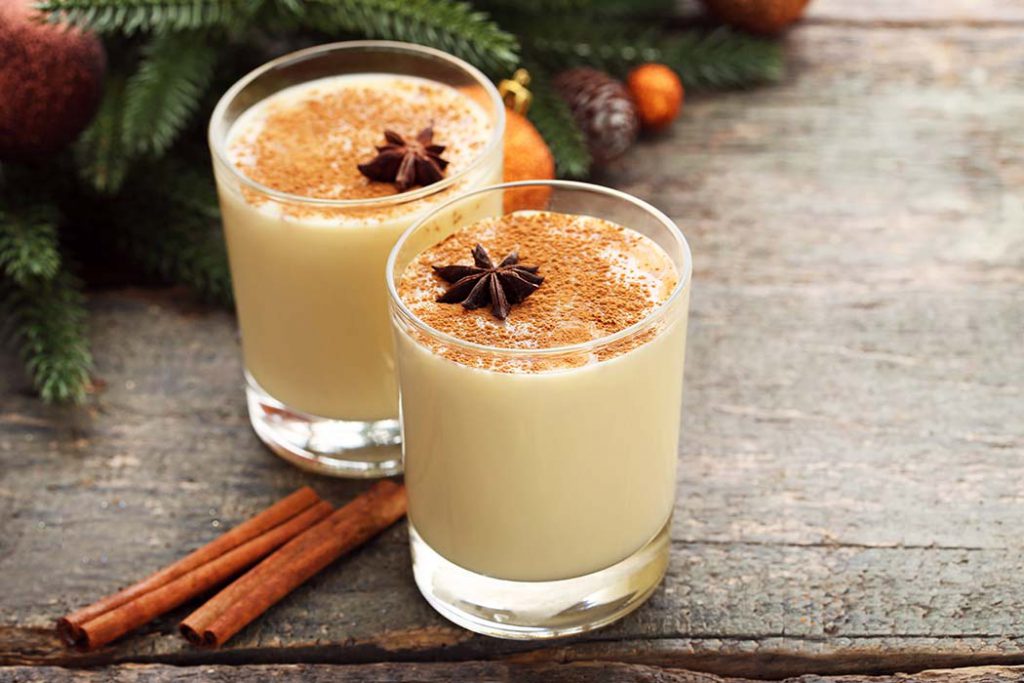 The holiday season wouldn't be complete without a homemade eggnog recipe, especially with the flavours of gingerbread! Try Gingerbread Soymilk Eggnog today!
Yield: 16 servings
Prep time: 10 minutes
Cook time: 75 minutes
Ingredients
4 beaten eggs
¾ cup of sugar
4 cups soy milk – divided
1 cup soy-based cream
8 large eggs, separated
1 (1-inch) piece of ginger, sliced
8 whole cloves, crushed
2 cinnamon sticks, broken
1/4 tsp. freshly grated nutmeg, plus more for serving
2 teaspoons pure vanilla extract
Pinch of salt
Directions
Combine soy cream, 2 cups of soy milk in a medium saucepan, over medium heat. Add ginger, vanilla extract, cloves, cinnamon and nutmeg and stir. Cook for 2-3 minutes, and do not let boil.
Remove from heat and let steep for 30 minutes.
Beat egg yolks with a whisk or electric mixer. Gradually add sugar and salt until well combined. Continue to beat or whisk or electric mixer until the mixture is thick and pale in colour (2-3 minutes).
Once cream mixture has steeped for 30 minutes, strain and remove spice. Return to a medium saucepan.
Slowly whisk in 1 cup of soy milk into the egg yolk and sugar mixture, add to pot with cream mixture. Cook over medium heat stirring constantly until the mixture reached 170°F and well coats the spatula. This should take 12-15 minutes.
Remove pot from heat and pour eggnog mixture into a bowl. Let cool, stirring occasionally before place into the refrigerator to chill. Let chill in the refrigerator for 20-30 minutes.
Optional* Stir in rum, cognac or bourbon and remaining 2 cups of soy milk for alcohol-based eggnog.
Top with eggnog and serve chilled!
#TrainWithGrainsTip: Is your eggnog thin using soymilk? Either add more soy-based cream or add a package of silken tofu as a thickener! If adding dessert tofu, blend well and add more spices until the desired flavour.