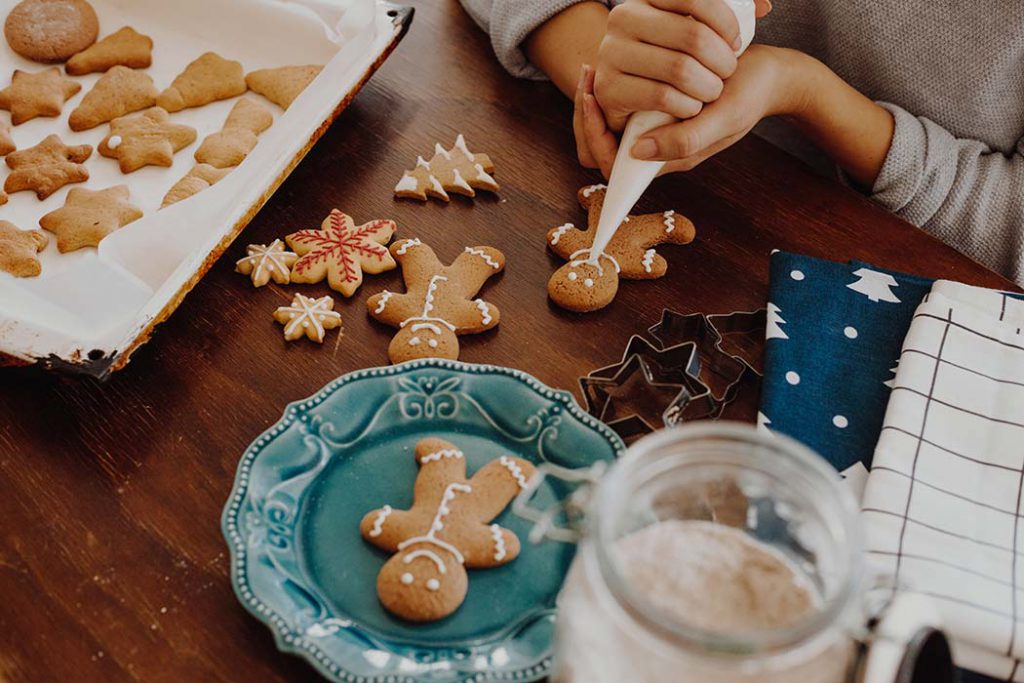 There is something very nostalgic about Gingerbread cookies during the holiday season. Create your own cookies and icing, and decorate with the whole family this holiday season!
Yield: 12 cookies
Prep time: 8 minutes
Cook time: 10 minutes
Ingredients
For the cookies:
3 ½ cups all-purpose flour, leveled
1 tbsp ground cinnamon
1/2 tsp ground ginger
1 tsp baking soda
½ tsp ground cloves
½ tsp ground nutmeg
1/2 tsp salt
3/4 cup butter, softened
1/2 cup packed brown sugar (split)
1 egg
½ cup dark molasses
1 tsp vanilla extract
For the icing:
2 cups confectioner's sugar
2 tbsp room temperature water
Food coloring, if desired
Directions
In a large mixing bowl, mix flour, cinnamon, ginger, baking soda, cloves, salt and nutmeg. Set aside.
Using an electric mixer, beat butter and sugar together for 2-minutes until light and fluffy. Add in egg, molasses, vanilla and brown sugar. Beat on medium speed until well combined. On low speed, gently add in flour mixture, and stir until just combined.
Divide dough in half and form them into a ball. Wrap in plastic wrap and flatten using hands to a flat disc shape. Chill dough overnight or up to three hours.
Once thoroughly chilled, remove dough from plastic wrap and place on a lightly floured surface.
Preheat oven to 350°F, and line a baking sheet with parchment paper.
Next, use your favourite cookie cutter(s), cut out dough out into holiday theme shapes. Place onto baking sheet.
Bake for 8 – 10 minutes in preheated oven.
While cookies are baking, prepare your icing. Whisk all ingredients in a bowl until smooth. If your icing is too thin, add in some powdered sugar. Too thick? Add in milk. Transfer icing to a piping bag, or a Ziploc bag with corner cut off.
Remove from oven and let cool completely. Decorate cooled cookies as desired! Store up to 5 days in an airtight container.
#TrainWithGrainsTip: Store your baked and decorated Gingerbread Cookies in an airtight container up to five days! You can also freeze cookie dough to make these cookies ahead of time then bake and decorate at another date!