Sriracha tofu and coconut rice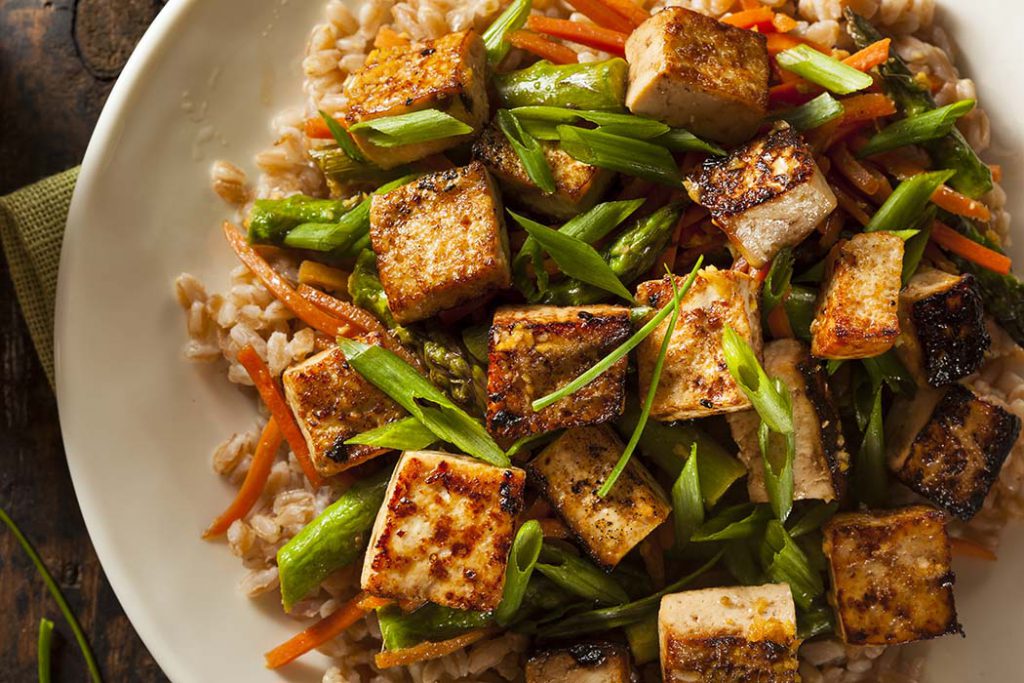 Spice up your dinner ideas with this Sriracha tofu and coconut rice. Tofu can be bland if not seasoned properly but this Asian inspired dish is packed full of flavors!
Yield: 4 servings
Prep time: 5 minutes
Cook time: 15 minutes
Ingredients
Sriracha tofu:
1 block extra-firm tofu
1 tbsp ginger
1 tbsp lime juice
2 tbsp sweet & sour sauce
2 tbsp Sriracha sauce
Vegetables of your choice (try it with baby bok choy or asparagus and carrots!)
Coconut rice:
1 cup water
1 cup coconut milk
1 cup jasmine rice
2 tsp salt
How to cook tofu?
Before cooking with tofu, find out what type of tofu the recipe calls for silken, medium, firm and extra firm. The difference between these is simply the texture or how much water was pressed out of the tofu blocks when they were created. The more water that was pressed out, the firmer the texture will be, and the different textures will impact how the tofu will work in the recipe.
Silken tofu is great for creamy and blended foods (smoothies, desserts, hummus, salad dressings)
Medium tofu is pretty delicate and works well in soups.
Firm tofu absorbs flavours well and is great in a stir fry or can be pan-fried or crumbled into dishes.
Extra-firm tofu is the ideal choice for blocks or cubed tofu and can easily be cooked and added to pasta, noodles or stir-fries.
Tofu can be cooked on the stovetop, in the oven and on the grill. Simply squeeze out most of the water from the tofu, cut or crumble into chunks, toss in oil, then cook to the desired crispiness. Tofu is cooked when the outside of crispy and browned, and the inside if chewy and creamy. Want tofu to be extra crispy? Toss in cornstarch before cooking!
Directions:
Start with the rice. Combine the water, coconut milk, and salt in a pot, and bring it to a boil. Add the rice and simmer for 10-15 minutes with the lid on.
Slice the tofu and vegetables and put them aside.
Mix all the remaining ingredients in a saucepan before adding the tofu and vegetables. Brown the tofu slightly on each side.
Plate with coconut rice and enjoy!