Grilled Greek chicken on whole wheat pita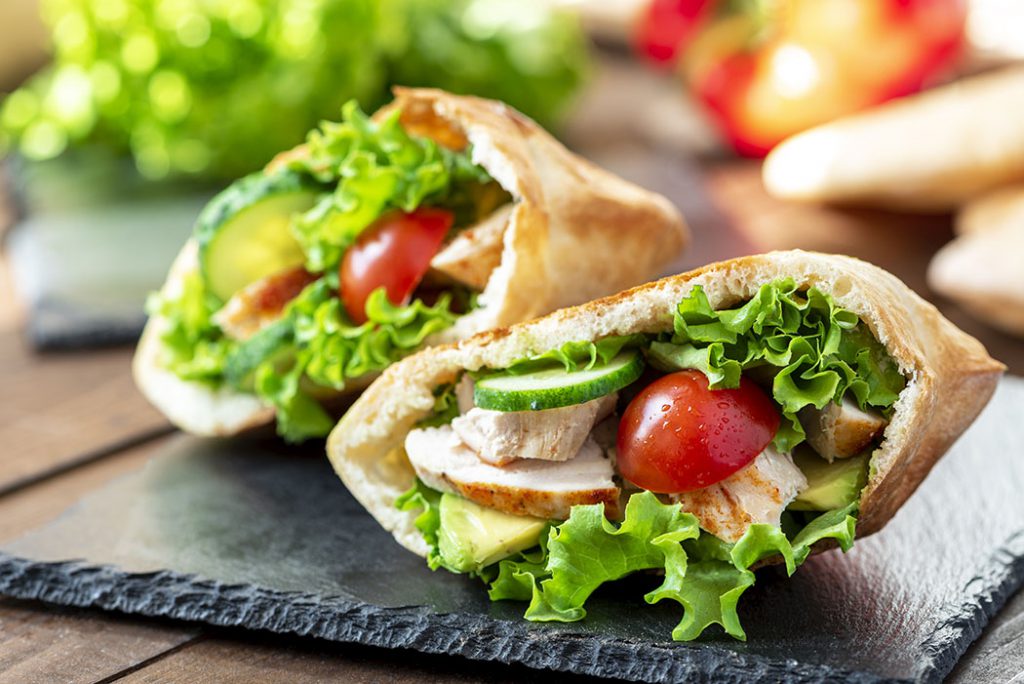 Grilled Greek Chicken on a Whole Wheat Pita is the perfect grilling meal for a hot summer night. Grill chicken and add to a homemade Greek salad (including dressing!) and stuff into whole-wheat pitas for a tasty and balanced meal.
Ingredients
4 (6-inch) whole-wheat pitas
3 tbsp extra-virgin olive oil, plus oil for brushing
2 tbsp fresh lemon juice (about 1 lemon)
1 tbsp red wine vinegar
1 tsp dried oregano
1 small clove garlic, finely grated
Kosher salt and freshly ground black pepper
3 (6-oz) boneless, skinless chicken breasts
6 cups chopped romaine (about 1 small head)
1 cup cherry tomatoes, halved
1 cucumber, sliced
1 cup feta cheese
1 cup red onion, thinly sliced
½ cup black olives
Directions
Preheat the grill to medium and lightly brush with oil.
Whisk together the lemon juice, vinegar, oregano, garlic, 1/4 teaspoon salt and some pepper. Slowly drizzle in the olive oil while whisking.
Sprinkle the chicken breasts all over with 1/4 teaspoon salt and some pepper, then toss with 2 tablespoons of the dressing.
Grill the chicken until nicely marked and it reaches an internal temperature of 165° F(about 4 to 5 minutes per side). Let rest for a few minutes, then slice.
Combine sliced chicken, lettuce, tomatoes, cucumbers, olives, red onions, and feta cheese. Evenly distribute and stuff into 4 pitas. Brush the outside pitas with some of the remaining dressing and grill lightly on each side.
Serve and enjoy.