Pulled chicken soup with wheat berries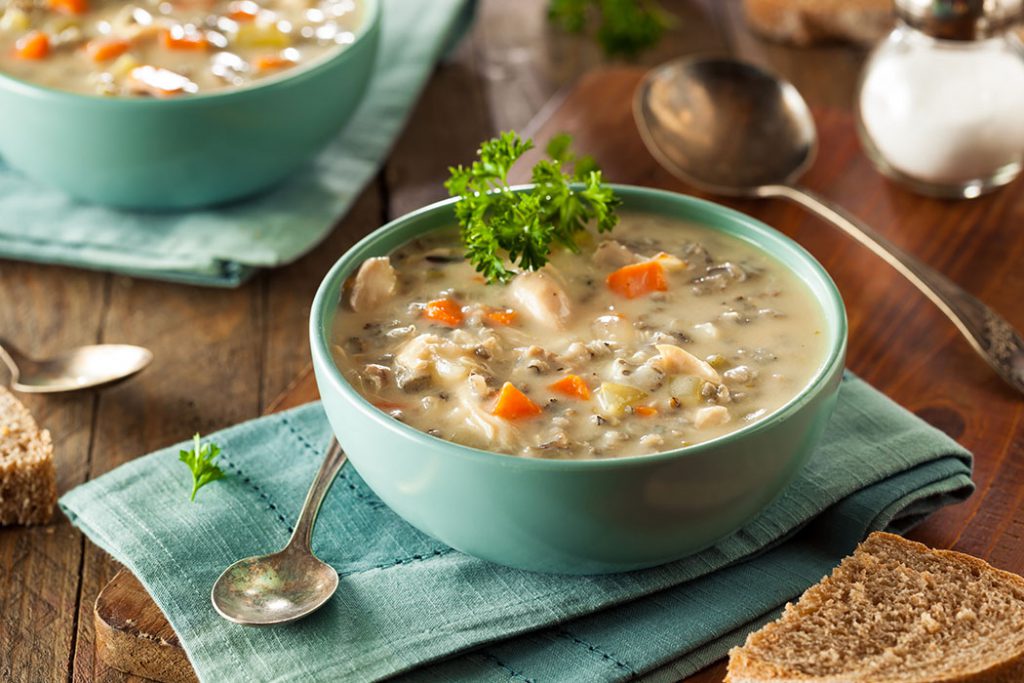 There's nothing better than a one-pot meal that you can make on the weekend to last you all week. This hearty chicken soup is loaded with veggies to be nourishing and comforting for those chilly evenings.
It's also packed with grains, which are an important source of many nutrients like fibre, and B vitamins. Yet according to a recent survey by Grain Farmers Ontario, only 26 per cent of Gen-X and less than a quarter of seniors consume three or more grain-based products on an average day.
To get more grains in your diet, start with this delicious soup. It's made with wheat berries, an underappreciated grain that adds a tasty crunch. Opt for local grains if possible — the survey also revealed that 37 percent of people prefer to source food from their own community.
Simply freeze or refrigerate this tasty recipe and use it as two meals for the week. Enjoy it with some delicious sourdough or garlic bread for dipping.
Yield: 15 cups of soup
Prep time: 15 minutes
Cook time: 60-70 minutes
Ingredients
1 whole chicken
17 cups (4 L) low sodium chicken stock
1 ½ cups (200 g) wheat berries, washed
1 bulb garlic
2 onions, split
2 parsnips, peeled
2 heirloom carrots, peeled
2 bunches black leaf kale
10 sprigs thyme
1 bay leaf
Cracked pepper to taste
Kosher salt to taste
Directions
Place all ingredients in a large stock pot and bring to a boil.
Once soup has come to a boil, reduce to a simmer.
Allow soup to simmer until chicken is fully cooked, about an hour.
Remove chicken, wheat berries and vegetables; let cool. Strain the remaining stock into a clean pot and return to stove. Skim off any particles that float to the surface.
Once chicken has cooled slightly, remove the flesh from fat and bone, flake and return to pot on the stove.
Now that the vegetables have cooled, dice them up and return to soup. Bring back up to a boil, season and serve.