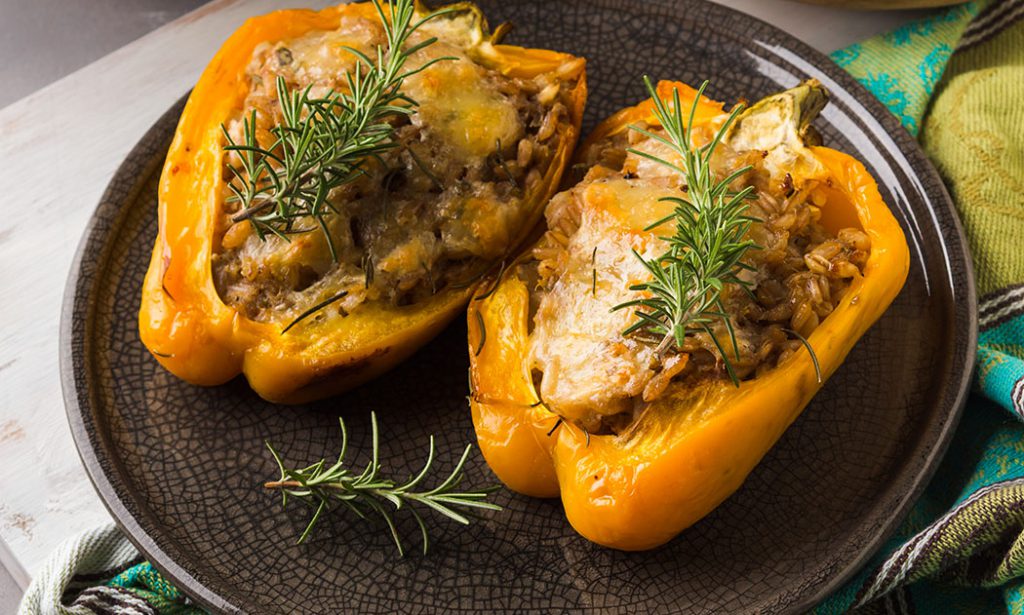 Try these barley stuffed peppers for an easy weeknight meal! Substitute the ground meat or colour of peppers to what your family prefers.
Yield: 3 servings
Prep time: 20 minutes
Cook time: 40 minutes
Ingredients:
4 large bell peppers
1 lb (450 g) extra-lean ground meat (beef, pork, turkey, chicken)
1 large onion, chopped
1 ½ cups cooked barley
3 cups water
1 can (398 mL) tomato sauce
¼ cup shredded cheese
Salt and pepper to taste
Directions:
Heat oven to 400°F.
Cut tops off peppers; chop finely. Remove and discard seeds.
Stand pepper in a baking dish, set aside.
Saute peppers, meat and onions in large skillet on medium heat until meat is evenly browned, stirring occasionally.
Add barley and water to a pot, bring to a boil. Reduce heat, cover and let simmer until tender.
Remove cooked barley from stove.
Add meat mixture and tomato sauce to barley, stir well to create filling for peppers.
Add salt and pepper to taste
Fill standing peppers with filling.
Bake 35 to 40 min. or until peppers are tender.
Remove from oven, sprinkle cheese on top.
Put back in oven until cheese is melted.
#TrainWithGrainsTip: When cooking barley, try to remember the ratio of 2 cups water for every 1 cup of barley. Too much or too little water can affect cooking time and the taste of the cooked grain.
#DidYouKnow? 1/2 cup of cooked barley is considered to be one grain serving?