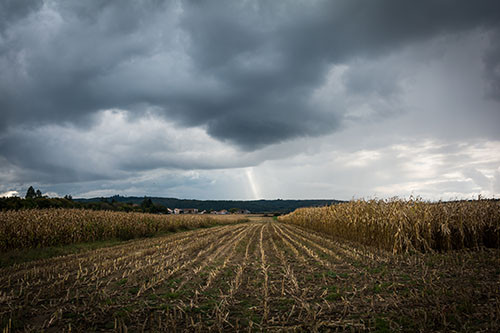 Summer 2018 was hot and dry across much of Ontario with many areas reporting below average rainfalls in the spring and summer.  That being said, the crops fared well over the summer with many of #YourFarmers hoping for high yields this fall.
Then the rains we missed this summer came.
Over the past few weeks many parts of Ontario have been in and out of the fields waiting for the rains to pass to combine the soybean and corn; and plant 2019's winter wheat crop.
The grains harvested will be wet coming off the fields. Many will have to be dried in a grain dryer. This can be expensive and time consuming so many of #YourFarmers will try to wait for grain to dry in the fields before the combines move.
Generally winter wheat will be planted into harvested soybean ground and planting 2019's crop is also on hold until the fields dry out. With planting delayed,  the plants will have less time to grow before the snow comes.
Fall harvest is one of the busiest and stressful times of the year for #YourFarmers without adding in weather delays and an approaching winter.
That being said the weather forecast is showing a dry weekend, so many combines, planters and trucks will be on the move in the next few days, so if you're heading to the country be careful and mindful as Ontario farmers push to get the grains off the fields while the weather holds!
https://twitter.com/carrie_nimijohn/status/1050133463435755534