Tomato, cucumber, and barley salad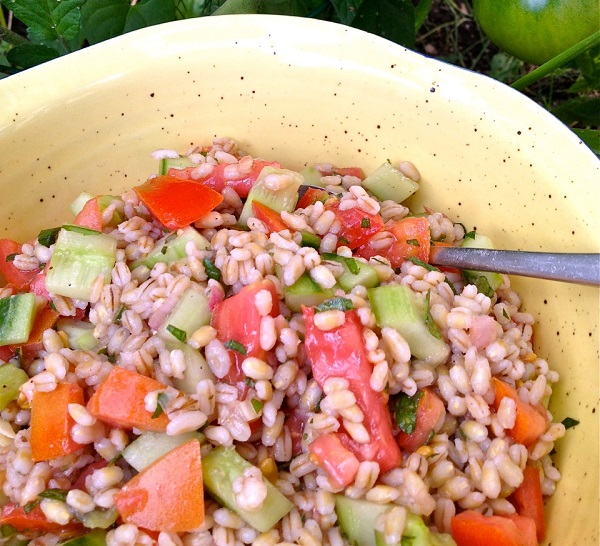 I love this combination of tender chewy barley with juicy tomatoes and cucumbers. Many people know how much I love vinegar in salads, and in this one the hit of acidity seems to add depth to the tomatoes, and really brings it together.
Ingredients:
1 cup (250 mL) pot barley
1 cucumber, peeled and chopped
1 small shallot, finely chopped
2 tbsp (30 mL) each chopped fresh basil and mint
3 tbsp (45 mL) red wine vinegar
2 tbsp (30 mL) vegetable or soybean oil
1/2 tsp (2 mL) salt
Pinch fresh ground pepper
2 firm ripe tomatoes, chopped
Directions:
In a pot of boiling water, cook barley for about 35 minutes or until tender but still chewy. Drain and rinse with cold water; set aside.
In a large bowl, combine cucumber, onion, basil and mint. Drizzle with vinegar and oil. Season with salt and pepper. Add cooked barley and tomatoes and stir well to combine.
Makes 6 servings.
Tip: Cover and refrigerate for up to 1 day. Be sure to stir the salad up well before serving.
If your cucumbers have a lot of seeds in them, be sure to scrape them out before chopping and adding to the salad.
Want some cheese? Sprinkle over some of your favourite feta or goat cheese when serving the salad for added flavour.